Steiner Wildlife 10x42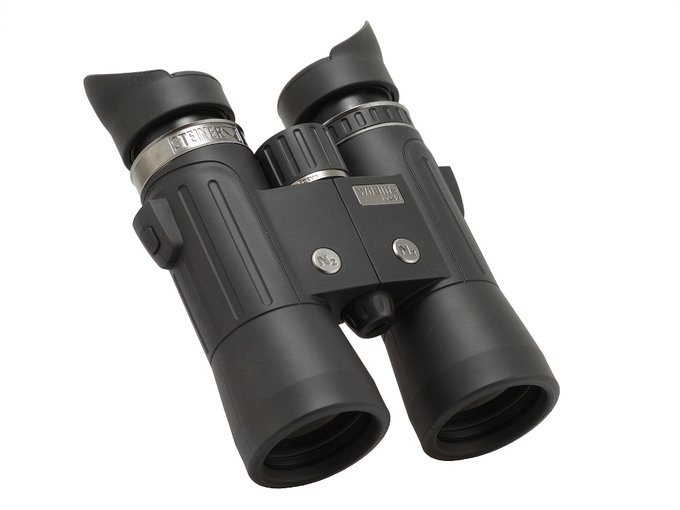 Even a dozen or so years ago the Steiner line-up was dominated by high quality Porro devices. Lately, though, the number of roof prism models similarly priced than their Porro equivalents has been increasing – I mean here several SkyHawk binoculars, a few Ranger models and such binoculars series as Cobra, Hunting or Observer.
At the beginning of 2018 that group was additionally enlarged by the Wildlife 8x42 and 10x42 models but you shouldn't mix them with the Wildlife XP series, featuring binoculars optically better but also significantly more expensive.
The Wildlife series is supposed to stick out with superior build quality. Indeed, the casing is very solid: the devices are able to work in temperatures ranging from -20 to +80 degrees C and they are completely waterproof, submersible up to 3 meters, and nitrogen purged. The 2-way-valve system allows you to refill nitrogen without any problem even after several years of wear and tear.
When it comes to optics, you deal here with roof Schmidt-Pechan prisms equipped with top-of-the-range phase correction coatings. The producers also boast of fully multicoated air-to-glass surfaces and the coatings are supposed to be of the highest quality. Still they don't mention what kind of reflective material was used on one of prism surfaces.
Buyers get a set of caps, a hard case, straps, and a cleaning cloth. The binoculars come with a 30-year warranty period.
Manufacturer data
Magnification
Lens diameter
Angular field of view
Prisms
Eye relief
Weight
Price
10
42
108/1000(6.2o)
BaK-4/roof
? mm
716 g
2490 PLN
Results of the review
Real front lens diameter
Left: 42.07+/- 0.05 mm
Right: 42.1+/- 0.05 mm
8 / 8.0 pkt
Real magnification
10.16+/- 0.05x
3/3.0
Transmission
88.4+/- 1%
16/25.0
Chromatic aberration
Slight in the centre, on the edge a bit higher than medium.
5.7/10.0
Astigmatism
Very low.
9/10.0
Distortion
Distance of the first curved line from the field centre compared to the field of view radius: 46% ± 2%
5/10.0
Coma
Appears in a distance of 70% of the radius from the field centre and is medium on the very edge.
7.3/10.0
Blurring at the edge of the FOV
Blur occurs in a distance of 69% ± 3% from the field of view centre.
3/10.0
Darkening at the edge the FOV
Very low.
4.2/5.0
Whiteness of the image
Quite flat transmission graph with a slight loss of blue and purple light. A very slight yellow-green hue.
4.3/5.0
Collimation
Perfect.
5/5.0
Internal reflections

| | |
| --- | --- |
| Left: | Right: |
| | |

You can notice some reflections near exit pupil.
3.4/5.0
Housing
Very original, characteristic for Steiner products, solid and very handy. Comfortable to handle and to look through. Padded with dark, matt rubber armour. Twisted-up, pliable eyecups protecting you from incident light. Rubber near objectives sticks out a lot.
7.3/8.0
Focusing
Medium-sized central wheel, comfortable and ribbed, with a distance scale. Full turn through an angle of 400 degrees. Individual focusing on the left eyepiece in a form of a comfortable ring which moves the outer lens.
4.5/5.0
Tripod
Yes. Quite comfortable access.
3/3.0
Interpupilary distance
from 56.5 to 73.5mm
4/6.0
Closest focusing distance
1.7 meters.
2/2.0
Eyepieces FOV
Apparent field of view of 61.1 deg (according to simple formula) and 56.1 deg (according to tangent formula).
11.5/20.0
Field of view
Measured by us amounted to 6.01 +/- 0.04 degrees and it was by 0.19 of a degree narrower than stated in the specifications. A sensible field for this class of equipment.
5/8.0
Quality of the interior of the barrels
Tubes are black and matt, with nice apertures. Bottom black but slightly shiny. Very clean.
4.7/5.0
Vignetting

| | |
| --- | --- |
| Left: | Right: |
| | |

OL: 5.18%, OR: 1.72%
4/8.0
Prisms quality
Good quality BaK-4.
8/8.0
Antireflection coatings
Greenish-yellow on objectives and eyepieces. Blue on prisms. Medium intensity.
4.5/5.0
Warranty [years]
30
6/6.0
Final result

72.8%

138.4 / 190 pkt
Econo result
0pkt.
Summary
Pros:
very solid, high quality casing,
sensible transmission,
very low astigmatism,
good coma correction,
slight brightness loss on the edge of the field of view,
very good, natural colour reproduction,
sharp images already from 1.7 metres,
good quality prisms made of BaK-4 glass,
high quality antireflection coatings,
proper blackening and cleanliness inside the tubes of the binoculars,
30-year long warranty period.
Cons:
too weak sharpness on the edge of the field of view,
noticeable chromatic aberration on the edge of the field of view,
truncated exit pupils.
What can be written in the summary of our test? Perhaps only an observation that, when it comes to roof prism Steiner devices everything is as of old. At the price point of about 500 Euro you can pick and choose among different series (it's enough we mention here several lines of SkyHawk, Ranger, Observer, now Wildlife devices) and every single one of them is perfectly designed and manufactured, very durable and rugged, able to survive without any harm many years of intensive wear and tear.
Bushnell Nitro 10x42, Steiner Wildlife 10x42 and Delta Optical Titanium HD 10x42 ED.
Still, optical properties are a bit of a problem. The parameters of the Wildlife 10x42 don't differ much from the parameters of its direct rivals. The declared field of view amounts to 6.2 degrees (being, in fact, a tad narrower) and, even if it can be called sensible, it is hardly impressive. Competitors can offer you a field ranging from 6.5-7.0 degrees anyway.
What's more, at the 400-600 Euro price point you can buy many pairs of binoculars with better optical properties. They are produced in China and without doubt the Steiner is better than them mechanically but optically it lags behind. Our Readers have to take their own decision: either they can have a pair of binoculars optically sensible but without any fireworks, mechanically excellent and reliable or they might opt for a piece of equipment which is optically very good but rather fragile, needing a lot of care in order to work properly for just several years.
At the 500 Euro price point it is a serious dilemma. We've seen models produced by even very renowned manufacturers which, after merely 2-3 years, looked extremely shabby and the rubber armour on their casings begged to be replaced. If you buy the Steiner, you won't have to face such unpleasant surprises. What's more, if anything happens you will have a very efficient and reliable warranty service at your disposal.