Levenhuk Sherman Pro 8x32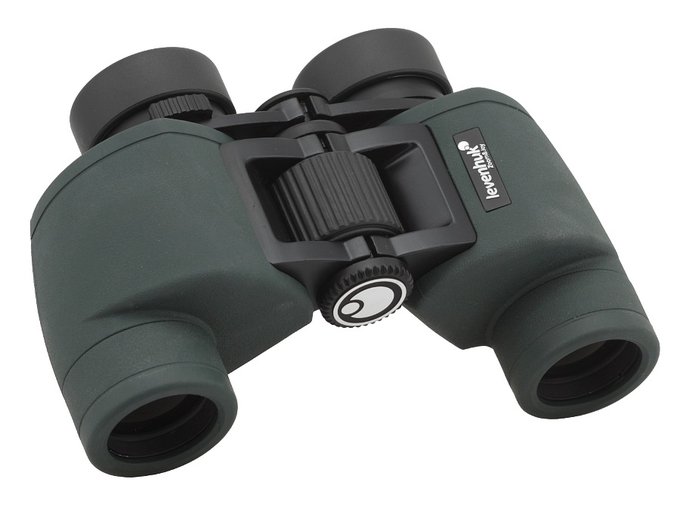 The Sherman Pro binoculars, manufactured by Levenhuk, are their top-of-the-line, most advanced series with Porro prisms. The series consists of instruments with the following parameters: 6.5x32, 8x32, 8x42, 10x42, 10x50 and 12x50. Their optical construction includes an achromatic objective lens, the aforementioned Porro prisms made of BaK-4 glass, and 5-element eyepieces with a wide field of view. All air-to-glass surfaces are supposed to be coated by multilayer antireflection layers.
Buyers get caps for eyepieces and objective lenses, a case, a strap, a cleaning cloth, an instruction manual and a warranty card. The binoculars come with the lifetime warranty period.
Manufacturer data
Magnification
Lens diameter
Angular field of view
Prisms
Eye relief
Weight
Price
8
32
142/1000(8.1o)
BaK-4/Porro
18 mm
700 g
675 PLN
Results of the review
Real front lens diameter
Left: 32.16+/- 0.05 mm
Right: 32.11+/- 0.05 mm
8 / 8.0 pkt
Real magnification
8.2+/- 0.1x
3/3.0
Transmission
83.6+/- 1%
11/25.0
Chromatic aberration
Low in the centre, slight on the edge.
7.7/10.0
Astigmatism
A bit lower than average. Stars sparkle noticeably.
6/10.0
Distortion
The distance of the first curved line from the field centre compared to the field of view radius: 66% ± 5%
8/10.0
Coma
Appears in a distance of 65-70% of the field of view radius and is between medium and high values on the very edge .
6.1/10.0
Blurring at the edge of the FOV
The blur occurs in a distance of 77% ± 4% from the field of view centre.
5/10.0
Darkening at the edge the FOV
Not very bothersome but visible.
3.8/5.0
Whiteness of the image
Slight yellow hue. Overall a good performance, with a quite Flat transmission curve.
4.1/5.0
Collimation
Perfect.
5/5.0
Internal reflections

| | |
| --- | --- |
| Left: | Right: |
| | |

Quite a lot of reflections near the pupils.
1.8/5.0
Housing
At first glance it looks like budget but solid Porro device of the Nikon Action EX class. The green, rough rubber armour is of high quality but the producer skimped on glue and, as a result, it can be peeled off of the objectives without much trouble. In other places, however, it sticks well. Huge, rubberized eyecups with 4 regulation stops. Produced in China.
5.3/8.0
Focusing
Big, ribbed central wheel with a working range of 270 degrees, quite comfortable to use. It moves smoothly and is well-damped. A classic bridge which moves evenly but rocks sideways noticeably under pressure. If you apply a lot of pressure you can defocus the whole device. Individual focusing done through a ring on the right eyepiece which moves the outer element.
3/5.0
Tripod
There is a comfortable exit. In the 8x32 test all binoculars were awarded an average value of 1.5 points because, in their case, you rarely need to use tripod exits.
1.5/3.0
Interpupilary distance
from 54.9 to 72.3mm
3/6.0
Closest focusing distance
2.15 meters.
1.5/2.0
Eyepieces FOV
Apparent field of view of 64.0 deg (according to simple formula) and 58.4 deg (according to tangent formula).
13/20.0
Field of view
Measured by us amounted to 7.80 +/- 0.04 degrees and it was by 0.3 of a degree narrower than stated in the specifications. Still it is a wide field for this class of equipment.
5.5/8.0
Quality of the interior of the barrels
Tubes are quite dark and matt at the beginning but deeper it seems you deal with grey metal not covered by anything. Dark grey bottoms; grey glue next to prisms. Some specks of dust on the prisms.
3.3/5.0
Vignetting

| | |
| --- | --- |
| Left: | Right: |
| | |

OL: 1.5%, OR: 2.1%
5.5/8.0
Prisms quality
Good quality BaK-4.
8/8.0
Antireflection coatings
Greenish everywhere. Medium intensity.
4.5/5.0
Warranty [years]
lifetime
6/6.0
Final result

68.2%

129.6 / 190 pkt
Econo result
0pkt.
Summary
Pros:
compact and solid body,
quite wide field of view,
sensible correction of chromatic aberration,
low distortion,
not bothersome brightness loss on the edge of the field,
good quality of BaK-4 glass prisms,
lifetime warranty.
Cons:
rubber armour of objectives can be peeled off
a lot of reflections near exit pupils,
field of view a bit narrower than declared in the specifications.

The following test shows clearly that the Levenhuk Sherman Pro binoculars are in the same category as the Nikons Action EX device, one of the most often recommended low cost binoculars with a price tag below 200 Euros. It seems that the Levenhuk are actually closer to the performance of the Nikons one decade ago, when their price was two times higher and they came with all air-to-glass surfaces covered by antireflection coatings. The transmission graph below shows those coatings are exactly the main difference between the Shermans Pro and contemporary Action EX devices.

Levenhuk used simple multilayer coatings which provide characteristic green reflections from the elements and a distinct transmission decrease in the centre of the visible spectrum. Still they covered all air-to-glass surfaces, reaching as a result a very sensible transmission level: for the red colour, it is able to get to 90% and for blue it is high enough to offer a very good colour rendition. If you remind yourself of the transmission of the Nikona Action EX 8x40 CF in the middle of the visible spectrum, which amounted to barely 80%, and a very noticeable decrease for blue, the advantage of the Levenhuk becomes evident.
The tested binoculars didn't avoid slip-ups because at this price point it would be very difficult to do so. One of them is rather funny. The producer stinted on glue so much that the rubber amour of the objective tubes doesn't simply stick up. It is completely removable. I suppose the real price of the binoculars should be augmented by the cost of a tube of glue.

There's another advantage of the Levenhuk binoculars. There are not many Porro devices with a good price/quality ratio in the 32 mm class of objective lenses. It should be emphasized, however, that the Sherman Pro series is a bit more expensive than the Nikon Action EX. On the one hand it is perfectly understandable as the binoculars are also a tad better. On the other hand, though, the Nikon brand name binoculars are far more recognizable on the market; overall a slight lowering of the price would be very good for the Levenhuk and might increase the interest among potential customers. However, even with the current price tag, the tested pair of binoculars is so good that I would recommend it to beginners without scruple.