Nikon Monarch 5 8x56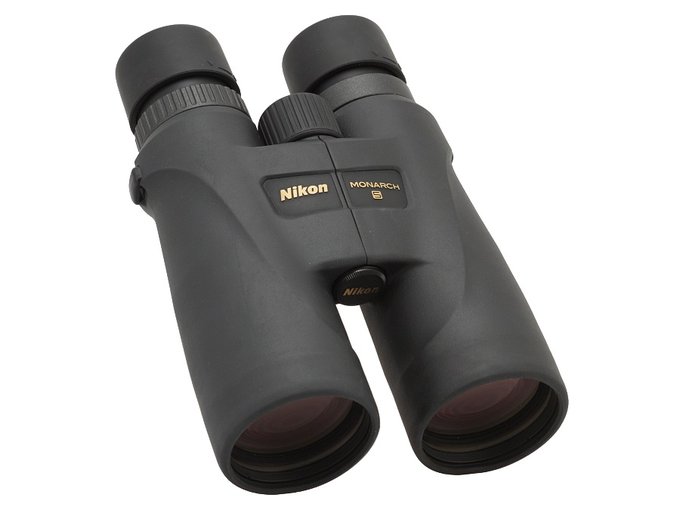 The history of night Monarch series of binoculars, produced by Nikon, started in 2006 with the launch of the 8.5x56, 10x56 and 12x56 devices. The first of them we've already tested and it got a very positive review.
In July 2013 their line-up was refreshed so to speak and Nikon presented the Monarch 5 series which, when it comes to the class of night instruments, consisted of the 8x56, the 16x56 and the 20x56 devices. These roof prism Schmidt-Pechan devices have all prisms covered with dielectric and phase correction coatings. The producer boast of using low dispersion ED glass and all elements and prisms are additionally covered by antireflection multilayer coatings.
The barrel of the binoculars is made of polycarbonate resin reinforced with fiberglass. The devices are nitrogen-filled and waterproof.
The binoculars come with a 10-year-long guarantee and the producer includes in box all caps, a case and a neoprene strap.
Manufacturer data
Magnification
Lens diameter
Angular field of view
Prisms
Eye relief
Weight
Price
8
56
108/1000(6.2o)
BaK-4/roof
20.5 mm
1140 g
1999 PLN
Results of the review
Real front lens diameter
Left: 56+/- 0.05 mm
Right: 56+/- 0.05 mm
8 / 8.0 pkt
Real magnification
8.08+/- 0.1x
3/3.0
Transmission
86.6+/- 1%
14/25.0
Chromatic aberration
Slight in the centre, but a bit higher than medium on the edge.
5.9/10.0
Astigmatism
Medium.
5.7/10.0
Distortion
The distance of the first curved line from the field centre compared to the field of view radius: 32% ± 3%
3/10.0
Coma
Starts in a distance of about 70% of the field of view radius and on the very edge is a bit higher than medium.
7/10.0
Blurring at the edge of the FOV
Blur occurs in a distance of 93% ± 3% from the centre of the field of view.
9/10.0
Darkening at the edge the FOV
Noticeable.
3.7/5.0
Whiteness of the image
Very delicate cream hue turning into orange. For the red colour the transmission amounts to 91.7%. The transmission for blue a bit lower than that for the green.
4/5.0
Collimation
Perfect.
5/5.0
Internal reflections

| | |
| --- | --- |
| Left: | Right: |
| | |

Quite dark area near exit pupils.
4/5.0
Housing
Very solid and physically big but also very comfortable to hold and to look through. Twist-up eyecups. Rubber armour is a bit rough and it sticks to your hands. Unfortunately the rubber near the objectives is too loose. Rubberized eyecups with 4 stops. Produced in China.
7/8.0
Focusing
Comfortable, ribbed central wheel which working range amounts to 540 degrees. Individual focusing done through an easy to use, big and ribbed ring on the right eyepiece. It moves the outer lens.
4.5/5.0
Tripod
There is a tripod exit but a bit difficult to reach.
2.5/3.0
Interpupilary distance
from 59.8 to 74.3mm
4/6.0
Closest focusing distance
4.50 meters.
1.5/2.0
Eyepieces FOV
Apparent field of view of 49.9 deg (according to simple formula) and 47.1 deg (according to tangent formula).
4/20.0
Field of view
Measured by us amounted to 6.17 +\- 0.04 degrees and it was in accordance with the specifications. A typical field for this class of equipment.
5/8.0
Quality of the interior of the barrels
Nicely matted and darkened tubes. A lot of ribs and apertures. A shiny bottom but only slightly protuberant around the prisms. Clean.
4.5/5.0
Vignetting

| | |
| --- | --- |
| Left: | Right: |
| | |

OL: 0.54%, OR: 0.88%
7/8.0
Prisms quality
Good quality BaK-4.
8/8.0
Antireflection coatings
Green-purple on objectives and eyepieces, green on the prisms. Medium intensity.
4.5/5.0
Warranty [years]
10
4.5/6.0
Final result

68.1%

129.3 / 190 pkt
Econo result
0pkt.
Summary
Pros:
good coma correction,
sharp image almost across the whole field of view,
moderate brightness loss on the edge of the field,
good colour rendition,
dark areas around exit pupils,
nicely matted, darkened and clean tubes,
good quality prisms made of BaK-4 glass,
more or less circular exit pupils,
good quality coatings covering all air-to-glass surfaces.
Cons:
noticeable distortion,
a bit too high level of chromatic aberration on the very edge of the field of view.

The Nikon Monarch 5 8x56 is undoubtedly a very solid piece of equipment and the result in our test confirms that. It has many advantages, it managed to avoid plenty of obvious slip-ups and its 'cons' list is mercifully short, consisting of just minor flaws. Overall the binoculars seem to be completely recommendable; that positive opinion is only spoiled by the result of the Monarch 8.5x56 which was even better.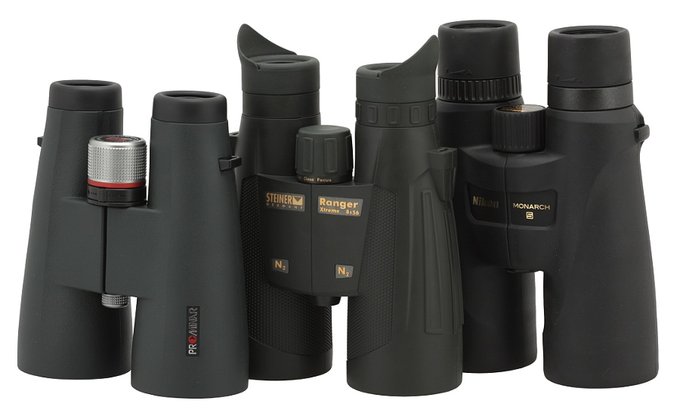 Kowa BD 8x56 XD Prominar, Steiner Ranger Xtreme 8x56 and Nikon Monarch 5 8x56

The predecessor's launch price was higher than the price of the model tested here but then there were periods of time when you could buy it even for 1500 PLN. Compared to that, the 2000 PLN price tag attached to the Monarch 5 seems a bit steep. On the other hand for such pairs of binoculars as e.g. the Minox BL 8x56 BR, the Steiner Ranger Xtreme 8x56, the Kowa BD 8x56 XD Prominar or the Vortex Vulture HD 8x56 you have to pay a similar amount of money and the Nikon seems to be better than all of them.
To sum up the Nikon Monarch 5 8x56 proved to be a very good instrument; if you decide to buy it you should be happy with your purchase.