Nikon Prostaff 5 10x50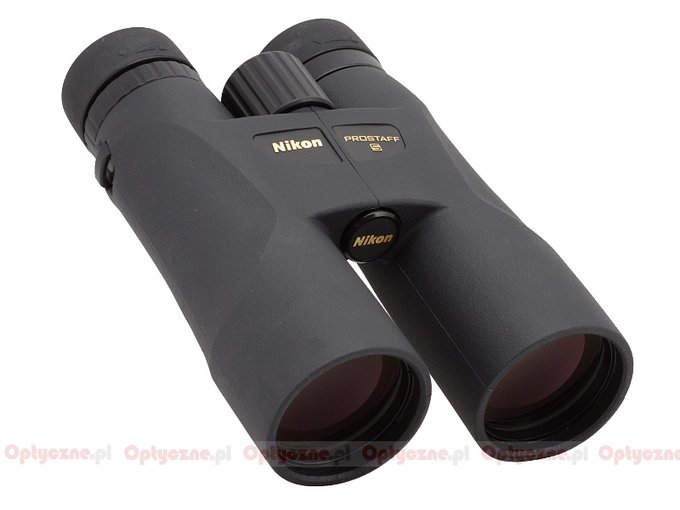 The new Prostaff 5 series, produced by Nikon, was launched in July 2013; it consists of four roof prism models with the following parameters: 8x42, 10x42, 10x50 and 12x50.
According to the producer the new instruments are aimed a travelers and fans of active leisure – they are physically light, waterproof and shock-proof. Their bodies were made of polycarbonates reinforced by glass fibre.
The producer mentions some multilayer antireflection coating but they never say whether those layers cover all air-to-glass surfaces. The Schmidt-Pechan prisms are supposed to have their reflective surface covered by aluminum – it means light losses amounting to over 10% on prisms themselves.
The buyers get separate objective and eyepiece caps, a strap and a case in the box. The binoculars also come with a 10-year guarantee period.
Manufacturer data
Magnification
Lens diameter
Angular field of view
Prisms
Eye relief
Weight
Price
10
50
98/1000(5.6o)
BaK-4/roof
19.6 mm
815 g
859 PLN
Results of the review
Real front lens diameter
Left: 50.1+/- 0.05 mm
Right: 50+/- 0.05 mm
8 / 8.0 pkt
Real magnification
10.06+/- 0.05x
3/3.0
Transmission
71.5+/- 1.5%
6/25.0
Chromatic aberration
High in the centre, a bit higher than average on the edge.
2/10.0
Astigmatism
Average.
4.2/10.0
Distortion
The distance between the first curved line and the field centre compared to the field of view radius: 31% +\- 3%
3/10.0
Coma
Appears in a distance of 75% of field of view radius and is high on the very edge.
6.5/10.0
Blurring at the edge of the FOV
The blur occurs in a distance of 85% +\- 4% from the field of vision centre.
7/10.0
Darkening at the edge the FOV
Moderate.
3.9/5.0
Whiteness of the image
Good. Quite flat graph
4/5.0
Collimation
Perfect.
5/5.0
Internal reflections

| | |
| --- | --- |
| Left: | Right: |
| | |

Slight.
3.9/5.0
Housing
Huge, especially when it comes to the length, even for the 50 mm class. Rubber padding pleasant to the touch and a bit coarse. It noticeably bends and sticks out near the objectives; you can also feel some slack in the padding. Huge eyecups, rubberized and regulated, with 4 stops. The binoculars is comfortable to watch through but people with smaller eye sockets can have problems. Produced in China.
6/8.0
Focusing
A big, very comfortable central wheel. It moves smoothly and is well damped. Running through the whole scale takes a turn through 450 degrees. A big, individual focus ring situated on the right eyepiece. It moves the outer element.
4.5/5.0
Tripod
No exit. In the 10x50 class it is actually a flaw.
0/3.0
Interpupilary distance
from 54.3 to 74.3mm
5/6.0
Closest focusing distance
3.4 meters.
2/2.0
Eyepieces FOV
Apparent field of view of 55 deg (according to simple formula) and 51.3 deg (according to tangent formula).
7/20.0
Field of view
Measured by us amounted to 5.47 +\- 0.03 degrees and it was by 0.13 of a degree narrower than stated in the specifications.
5/8.0
Quality of the interior of the barrels
The top of the tubes is black and quite matt but deeper down everything shines. A small bottom is gray and uncovered by anything. Some specks of dust plus one tiny scratch on one of the prisms.
2.3/5.0
Vignetting

| | |
| --- | --- |
| Left: | Right: |
| | |

OL: 2.5%, OR: 7.7%
Significantly truncated right pupil
2.5/8.0
Prisms quality
Good quality BaK-4.
8/8.0
Antireflection coatings
Green –purple on objectives and eyepieces. Prisms from the side of objectives seem to be not covered by anything; also one surface on objectives shines significantly. Medium intensity.
2.5/5.0
Warranty [years]
10
4.5/6.0
Final result

55.7%

105.8 / 190 pkt
Econo result
0pkt.
Summary
Pros:
low physical weight for the 10x50 class,
good quality prisms made of BaK-4,
sensibly corrected coma,
moderate brightness loss on the edge of the field of view,
good whiteness rendering,
sharp image across almost all field of view,
small flares near exit pupils.
Cons:
not especially impressive transmission,
huge chromatic aberration,
noticeable distortion,
significantly truncated right exit pupil,
no coatings on some air-to-glass surfaces,
the interior of tubes leaves a lot to be desired,
no tripod exit.

When you take the Prostaff 10x50 into your hands it's the size what sticks out – it can be clearly seen in the photo below where the tested pair of binoculars is positioned next to the Delta Forest II 10x50 and the Vixen New Foresta 10x50.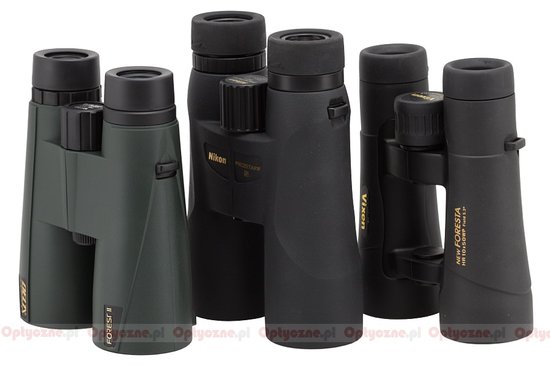 Delta Optical Forest II 10x50, Nikon Prostaff 5 10x50 and Vixen New Foresta 10x50.

The following chart  compares the tested Nikon to other 10x50 roof prism instruments which can be bought for less than 400 Euro. As you can notice the Nikon is really huge but it is balanced out by its weight – only the New Foresta is physically lighter. Such a low weight of the Nikon is undoubtedly caused by lack of metal in the casing.
One glance at the transmission graph below and you immediately see the difference between the Prostaff 7 and the Prostaff 5 series.

The savings on coatings are certainly huge. Still aluminum on prisms means losses of light only in that place exceed 10%; add to that most likely two air-to-glass surfaces with very weak coatings or completely uncoated and you get another 10% of losses. As a result the maximum transmission of the binoculars in the centre of the visible spectrum barely exceeds 70%. Contrary to the Delta Optical Forest II 10x50 the Nikon doesn't have any transmission increase in the red part of the spectrum. Its transmission values, integrated throughout the whole spectrum range, are lower than those of the two times cheaper Forest. Still the Prostaff 5 provides a bit better colour rendering because its transmission graph is flatter than that of the Forest II.
The significant length of the binoculars suggested that there would be no problems with the chromatic aberration; unfortunately our expectations and the reality check were two different things. The aberration level is high even despite a not especially large field of view which made us think that on the edge the images would be of good quality. Once again we were disappointed. It would be difficult to complain about the coma, brightness loss or sharpness but the distortion and astigmatism could have been corrected better.
A summary result of the Nikon Prostaff 5 10x50 test is practically the same as the result of two times cheaper Forest II 10x50 which, additionally, is a smaller and a nicer instrument to look at. I suppose no other comment is needed here. We cannot recommend the Prostaff 5 series or at least the 10x50 model to anyone– your money might be invested much better as you can find binoculars similarly priced which are able to provide a better performance.