Nikon 8x32 EDG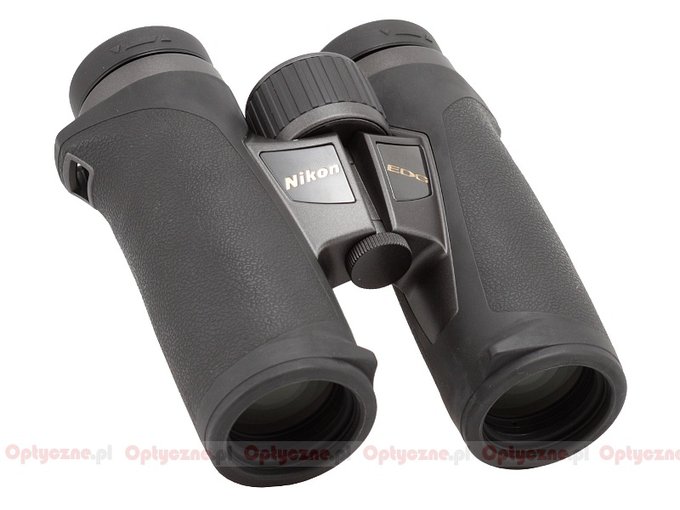 Binoculars from the Nikon EDG series had officially two launches. The first one was in April 2008, when the company introduced five new models, marked by the EDG symbol, into the market. They were supposed to feature low-dispersion glass in objectives and their casing was designed as "open hinge" – a style so fashionable lately. After several months these binoculars indeed hit the shelves in the USA but you wouldn't find any official distribution channel which could sell them in Europe. Such a situation lasted a dozen months or so and in March 2010 Nikon officially informed about…the launch of five pairs of EDG series binoculars. These devices looked different than those presented two years ago. No explanation was offered. We don't know whether the older EDG were intended for the American market only or the new EDG instruments substituted the older ones. Anyway new EDG models are already available in Europe and nothing stands in our way of testing them.
In the new EDG series we have five models of binoculars at our disposal with the following parameters: 8x32, 10x32, 7x42, 8x42 and 10x42. They boast low-dispersion ED glass in objectives and very high quality eyepieces with a flat field – because of these features the image is supposed to be perfect and sharp in the whole field of view. The binoculars have the Schmidt-Pechan roof prism system with phase correction coating and dielectric coating, featuring ultra-high reflectivity - as much as 99% of light ranging from 400 to 700 nm is reflected by them. The casing is very durable, waterproof up to a depth of 5 meters (for 10 minutes) and nitrogen-filled.
The buyers get a neck strap, a soft case, joined eyepiece caps, objective caps attached to the tubes and additional, horn-shaped eyecups which can be simply put on those permanently fixed to the eyepiece. The binoculars come with ten-year consumer warranty.
Manufacturer data
Magnification
Lens diameter
Angular field of view
Prisms
Eye relief
Weight
Price
8
32
136/1000(7.8o)
BaK-4/roof
18.5 mm
655 g
5999 PLN
Results of the review
Real front lens diameter
Left: 32.3+/- 0.05 mm
Right: 32.3+/- 0.05 mm
8 / 8.0 pkt
Real magnification
7.96+/- 0.05x
3/3.0
Transmission
87.1+/- 1.5%
15/25.0
Chromatic aberration
Invisible in the centre and low on the edge – a round of applause!
9/10.0
Astigmatism
Almost imperceptible.
8.8/10.0
Distortion
The distance between the first curved line and the field centre compared to the field of view radius: 86% +\- 5%
10/10.0
Coma
Starts in a distance of about 80% of the field of view and is slight on the very edge.
8.7/10.0
Blurring at the edge of the FOV
Perfect sharpness across the whole field – practically to the very edge! Perhaps the 1-2% of the field near the border is a tad fuzzy.
10/10.0
Darkening at the edge the FOV
Very low.
4.4/5.0
Whiteness of the image
Not so perfect as in the case of the 8x42 and the 10x42 models.
3.9/5.0
Collimation
Perfect.
5/5.0
Internal reflections

| | |
| --- | --- |
| Left: | Right: |
| | |

Low.
4/5.0
Housing
Solid, comfortable to hold and to look through. Rough texture of the padding. Metal eyecups finished with rubber with 5 regulation stops. You can put on them horn-shaped eyecups you get in the accessory kit. The rubber sticks out near the objectives. Produced in Japan.
7.5/8.0
Focusing
A big, comfortable central wheel with a working range of 380 degrees. It moves smoothly but is well-damped. Individual focusing through a click-stop system positioned on the central wheel. Nothing moves outside.
5/5.0
Tripod
There is a quite comfortable tripod exit. In our 8x32 devices test all binoculars were granted an average value of 1.5 points because a tripod stand exit is rarely used in this class of equipment.
1.5/3.0
Interpupilary distance
from 51.4 to 77.6mm
5/6.0
Closest focusing distance
1.9 meters.
1.5/2.0
Eyepieces FOV
Eyepieces with an apparent field of view of 61.4 deg (according to simple formula) and 56.4 deg (according to tangent formula).
11.5/20.0
Field of view
Measured by us amounted to 7.71 +/- 0.03 degrees and was slighly narrower than stated in the specifications. A big field of view for this class of equippment.
6/8.0
Quality of the interior of the barrels
Beautifully matted and darkened tubes and areas near the prisms. Some very slight specks of dust.
4.8/5.0
Vignetting

| | |
| --- | --- |
| Left: | Right: |
| | |

OL: 0.91%, OR: 0.56%
7/8.0
Prisms quality
Good quality Bak-4.
8/8.0
Antireflection coatings
Dark-greenish everywhere plus a subtle yellow hue. Low intensity.
5/5.0
Warranty [years]
10
4/6.0
Final result

82.4%

156.6 / 190 pkt
Econo result
0pkt.
Summary
Pros:
very solid and sealed casing,
good transmission,
perfectly sharp image across the whole field of view,
great correction of chromatic aberration,
very low astigmatism,
slight coma,
very good distortion correction,
low brightness loss on the edge of the field,
nice, circular exit pupils on an almost perfectly black background,
good whiteness rendering,
perfect blackening inside the tubes,
wide range of the gauge of the tube axis,
high quality of prisms and coatings.
Cons:
field of view could have been a bit wider.

If a pair of binoculars gets the highest score of all instruments, tested by us so far in a given class of parameters, then the summary doesn't have to be long. In fact you could tell it all in one short sentence: if you can afford it, buy it…
Still if you want to pick holes the following chart might come in handy. When you consult it you see at once that the Nikon EDG is physically the heaviest and the biggest among top-of-the-range 8x32 roof prisms devices. Such parameters obligate you to offer the best of the best; still the rivals feature a better, wider field of view. If only the Nikon was able to offer 8-8.5 degrees we would no longer have any serious argument against it.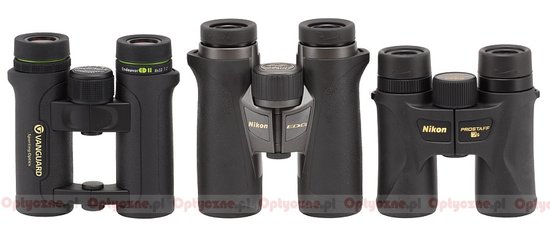 Vanguard Endeavor ED II 8x32, Nikon EDG 8x32 and Nikon Prostaff 7s 8x30

However even with a bit narrower, but after all still not pathetically small field of view, the Nikon can compete successfully with its rivals, mainly due to the perfect correction of that field on its very edge. Really its performance is beyond reproach – the almost perfect sharpness, no distortion, slight levels of coma and chromatic aberration, almost no visible brightness loss. We do think contemporary top-of-the-range pairs of binoculars should be constructed exactly that way – three cheers and a big round of applause!
The purists can try to complain about the transmission which graph we present below.

Indeed 87% in the centre of the visible spectrum is a level reached by much cheaper binoculars. On the other hand the transmission for the red light exceeds 90% and the images feature neutral colours because the losses for blue light are slight. You should also remember that cheaper instruments are often less complex optically. They correct the edges of the field worse but they have less optical elements so less opportunities for loss in brightness.
To sum up we don't doubt that the Nikon EDG 8x32 is one of the best pairs of 8x32 binoculars available on the market and, overall, one of the best instruments we've had a pleasure to test so far. It's worth noticing how the Nikon company have dominated that category of parameters. In our ranking you find three Nikons among the top five devices and there are as many as four Nikons in the top ten!