Nikon 8x30E II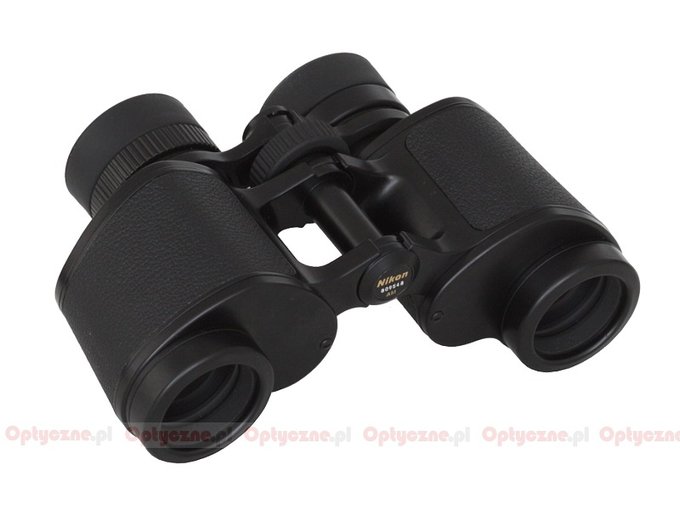 Classic E series porro prism models were launched in 1978. At first that group consisted of two pairs of binoculars: the 8x30 and the 10x35. In 1984 the producer added the 7x35 model to the line-up. The series was produced, with just slight changes, till 1999 when it was substituted by the EII models. The production of the 7x35 instrument was dropped at that time so only the 8x30 and the 10x35 models were continued. What's interesting, although the predecessors featured a field of view which was significantly big, the EII series models increased that even further. As a result the Nikon 8x30 EII boasts one of the widest fields of view among all 8x magnification binoculars, available on the market.
The binoculars' design is very classic but the materials are definitely contemporary and the whole production process still takes place in Japan. The casing is made of magnesium alloys and the optics - of lead-free, ecological glass; also the anti-reflection coatings meet current standards. The only negative change, when comparing the tested device to the E series, is the case. They used to add a small, beautiful piece of Japanese leathercraft in a form of a very stylish hard case. Now you get a soft case, produced in China, which looks bland to say the least of it.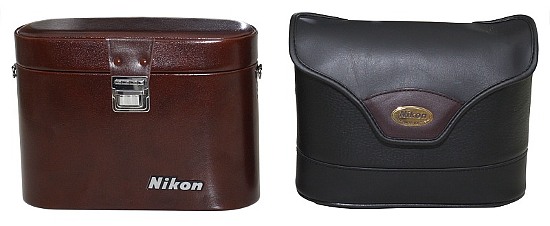 On the left: the case you got with the E series; on the right: the EII series case.
Apart from the case buyers get a strap and two caps. The binoculars come with 10-year guarantee period.
Manufacturer data
Magnification
Lens diameter
Angular field of view
Prisms
Eye relief
Weight
Price
8
30
154/1000(8.8o)
BaK-4/Porro
13.8 mm
575 g
1699 PLN
Results of the review
Real front lens diameter
Left: 30.05+/- 0.05 mm
Right: 30.03+/- 0.05 mm
8 / 8.0 pkt
Real magnification
7.96+/- 0.05x
3/3.0
Transmission
89.1+/- 1.5%
17/25.0
Chromatic aberration
Very low in the centre, a bit lower than medium on the edge.
7.5/10.0
Astigmatism
Negligible. Almost point-like images of stars.
8.7/10.0
Distortion
The distance of the first curved line from the field centre compared to the field of vision radius: 60% +/- 4%
7/10.0
Coma
Appears in a distance of 60-65% of the field of vision radius and is getting near high values on the very edge.
4.8/10.0
Blurring at the edge of the FOV
The blur occurs in a distance of 73% +/- 5% from the field of vision centre.
4/10.0
Darkening at the edge the FOV
Low.
4.3/5.0
Whiteness of the image
Very good. There is a transmission dip for green-yellow light but differences between it and the red light don't exceed 6%. It is worth noticing that the dip is even shallower than in the 10x35 EII model.
4.7/5.0
Collimation
Perfect.
5/5.0
Internal reflections

| | |
| --- | --- |
| Left: | Right: |
| | |

A lot of gleams near the exit pupils.
2/5.0
Housing
A Porro construction, classic to the core, put in a casing made of magnesium composites covered by leatherette. Made in Japan. Very comfortable to hold and to look through, giving you a great observation experience. The eyecups made of rubber can be folded. The device is not waterproof and nitrogen-filled.
7.8/8.0
Focusing
Rubberized central wheel with ribs but a bit narrow. Its full turn amounts to 490 degrees. A classic ocular bridge which moves smoothly, evenly, without any side play. The pressure applied on it doesn't defocus the binoculars. Individual focusing on the right eyepiece; it is comfortable but it moves the outer lens.
4.2/5.0
Tripod
A pipe in the centre where you can try to attach an adapter. You can buy an optional brand name adapter.
1.5/3.0
Interpupilary distance
from 52.3 to 73.2mm
4/6.0
Closest focusing distance
2 meters.
1.5/2.0
Eyepieces FOV
Apparent field of view of 70.2 deg (according to simple formula) and 63.2 deg (according to tangent formula).
16/20.0
Field of view
Measured by us amounted to 8.84 +\- 0.04 degrees and it was in perfect accordance with the specifications. A very large field for this class of equipment.
8/8.0
Quality of the interior of the barrels
Very nicely matted, black inner tubes. White glue (!). Very clean. The prism chamber is not blackened.
3.7/5.0
Vignetting

| | |
| --- | --- |
| Left: | Right: |
| | |

OL: 1.4%, OR: 0.0%
7/8.0
Prisms quality
Good quality BaK-4.
8/8.0
Antireflection coatings
Green-purple on objectives, green-yellow-pink on the eyepieces, greenish on the prisms. Low intensity.
5/5.0
Warranty [years]
10
4.5/6.0
Final result

77.5%

147.2 / 190 pkt
Econo result
0pkt.
Summary
Pros:
casing which is classic and very solid at the same time,
good transmission,
very good colour rendering,
chromatic aberration corrected well,
slight distortion,
huge field of view,
negligible astigmatism,
slight brightness loss on the edge of the field of view,
clean inside the tubes,
more or less circular exit pupils,
high quality prisms and coatings.
Cons:
significant coma on the very edge of the field of view,
lack of full waterproofness.
How to write an objective summary of the Nikon 8x30 EII, one of my favourite binoculars? On the other hand if this piece of equipment wasn't so good it wouldn't become my favourite at all. After all I hope nobody has any doubts it is a very good pair of binoculars…
Before the E and EII series were launched the Nikon company had offered the 8x30A binoculars with a field of view of 8.5 degrees.
Porro prism 8x30 binoculars have been produced by Nikon for several dozen years. At the beginning these were instruments with a field of view amounting to 8.5 degrees, featuring small eyepieces with poor eye relief. Then they evolved, from A series (shown in the photo above) and through E series to take a form of the EII models by the end of the 20th century. The result is such that you get a product which joins the best of classic features and modern technology. It inherited a great field of view, amounting to 8.8 degrees, and a classic casing. The modernity can be noticed when you examine the construction of its eyepiece, much bigger than that of the predecessors, correcting much better the edges of that huge field and providing a comfortable eye relief at the same time. You shouldn't forget, of course, about modern antireflection coatings and the casing, made of magnesium alloys.
All of it means you get a small, handy instrument which is optically brilliant and comes with an affordable price. Our ranking shows how good this pair of binoculars really is – the Nikon 8x30 EII managed to get the eighth place and all higher (and also some lower) positions are occupied by binoculars noticeably more expensive. Only one other top-of-the-range set of binoculars features equally good price/quality ratio – it is another Porro classic, produced by Nikon, the 8x32 SE model…
Here we get to the bottom of the matter. If Porro classics manage so well, why aren't they produced in bigger numbers and promoted accordingly? Both the EII and SE series are a bit long in the tooth; still they compare favourably to contemporary rivals even if inside they feature a technology as old as two decades. I keep hoping the Nikon company, the producer of top-of-the-range binoculars with a very diversified line-up, will continue offering Porro devices of high quality. Mind you, they don't have to develop two or three series simultaneously, as it has been the case so far. One really good series will suffice. I dream of a contemporary marriage of the EII and SE series: combining together a great field of view (with 65-70 degrees eyepieces), a handy, waterproof casing, antireflection coatings of the highest quality, which can guarantee high transmission levels and good colour rendering, and contemporary optics design, with eyepieces featuring a comfortable eye relief and a flat, perfectly corrected field of view. The series wouldn't have to consist of many models; in fact it's enough the producer focused on the most classic parameters: 8x32, 8x42, 10x42, 10x50 and 8x56.Instead of five pairs of binoculars, offered currently as EII and SE instruments, you would get five new ones, perfectly able to satisfy the needs of most of binoculars users.
After daydreaming about such a device you must return to the harsh reality, though. The reality is such that there are still EII and SE series binoculars available in the shops. We don't know how long they will stay there so I'd advise you to hurry; if you don't, you might face a choice between something (and here, I admit, the word 'binoculars' simply stuck in my throat) called Aculon and the EDG series, costing 'just' 2000 Euro…Ok, maybe I am exaggerating a bit, there are still Monarchs 5 and 7, both quite sensible pairs of binoculars, but it is material for another story.