Bushnell Elite 10x42 ED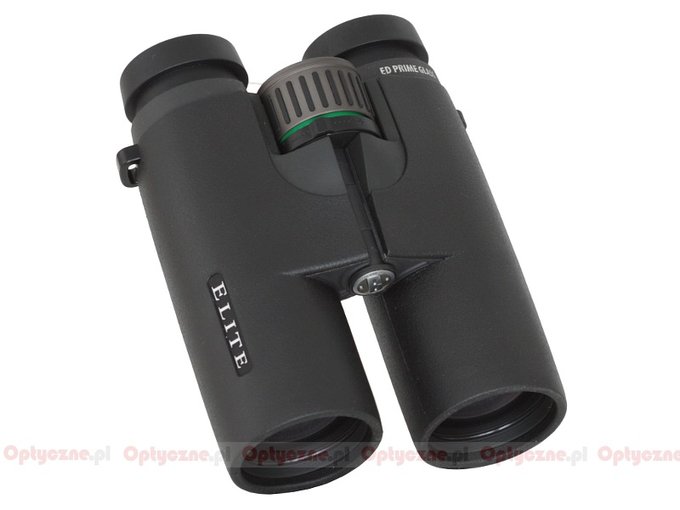 The Bushnel Elite 10x42 pair of binoculars performed very well in our big 10x42 instruments test, done back in 2006. Since that time there have been a lot of changes introduced to this series. As a result the casing is completely new and the producer started to boast about using ED glass in the objectives which is supposed to improve the chromatic aberration correction.
The Elite series binoculars are Schmidt-Pechan roof prism devices. Their prisms, made of BaK-4 glass, are phase-coated and they feature one dielectric surface which is supposed to ensure the highest amount of reflected light.
All air-to-glass surfaces of the tested binoculars are covered by XTR multilayer coatings (in fact the producer boasts of as many as 60 layers of those) so the transmission amounts to 99.73% on one air-to-glass surface. What's more, the outer elements are covered by hydrophobic RainGuard® HD layers which task is to prevent the dirt from sticking to optical elements. The casing of the lens is made of magnesium alloys and covered by high quality rubber. It is also nitrogen-filled, rain- and splash-proof and its body is submersible to a certain degree. Buyers get a hard case, a strap and caps for objectives and eyepieces in the product bundle.
Manufacturer data
Magnification
Lens diameter
Angular field of view
Prisms
Eye relief
Weight
Price
10
42
105/1000(6o)
BaK-4/roof
15.5 mm
740 g
2099 PLN
Results of the review
Real front lens diameter
Left: 42.05+/- 0.05 mm
Right: 42.1+/- 0.05 mm
8 / 8.0 pkt
Real magnification
9.99+/- 0.05x
3/3.0
Transmission
83.1+/- 1.5%
11/25.0
Chromatic aberration
Almost imperceptible in the centre, between low and medium on the edge of the field.
8/10.0
Astigmatism
Negligible.
8.8/10.0
Distortion
The distance of the first curved line from the field centre compared to the field of view radius: 86% +\- 3%
10/10.0
Coma
Appears in a distance of 70-75% of the field and is a bit lower than average on the very edge.
7.8/10.0
Blurring at the edge of the FOV
The blur occurs in a distance of 61% +\- 5% from the fleid of view centre.
1/10.0
Darkening at the edge the FOV
Imperceptible.
5/5.0
Whiteness of the image
Very good. A dip in the middle of the range but very slight. A better result than that of the 8x42 model.
4.6/5.0
Collimation
Perfect.
5/5.0
Internal reflections

| | |
| --- | --- |
| Left: | Right: |
| | |

Slight.
4/5.0
Housing
Neat and handy – it makes an impression of a solid instrument. Good quality rubber padding which sticks well to your hand. Thumb grooves. Comfortable to look through. Rubberized eyecups with smooth regulation. The rubber next to the objectives sticks out visibly. An inscription on the casing "Assembled in USA" which is interesting because the 8x42 model, tested by us previously featured another inscription – "Made in Japan".
7.5/8.0
Focusing
A big, ribbed central wheel, comfortable, with a working range of 470 degrees. It moves evenly and is properly damped. A joystick near the central wheel for individual focusing. Nothing moves outside. By and large perfect.
5/5.0
Tripod
There is a tripod exit but a bit difficult to reach.
2.5/3.0
Interpupilary distance
from 58.3 to 74.1mm
5/6.0
Closest focusing distance
2.1 m
2/2.0
Eyepieces FOV
Apparent field of view of 60 deg (according to simple formula) and 55.3 deg (according to tangent formula).
11/20.0
Field of view
Measured by us amounted to 6.01 +\- 0.03 degrees and it was in perfect accordance with the specifications.
5/8.0
Quality of the interior of the barrels
Inner tubes black but too shiny; grey bottom. Some delicate micro scratches on one of the prisms.
3.5/5.0
Vignetting

| | |
| --- | --- |
| Left: | Right: |
| | |

OL: 0.48%, OR: 4.39%.
5/8.0
Prisms quality
Good quality BaK-4.
8/8.0
Antireflection coatings
Greenish-blue on objectives, greenish-purple on the eyepieces, green on the prisms. Medium intensity.
4.5/5.0
Warranty [years]
30
5/6.0
Final result

73.8%

140.2 / 190 pkt
Econo result
0pkt.
Summary
Pros:
compact but solid casing,
negligible astigmatism,
well-corrected chromatic aberration,
low coma,
imperceptible distrotion,
low brightness loss on the edge of the field of vision,
dark areas near the exit pupils,
correct whiteness rendering,
high quality of coatings and prisms made of BaK-4 glass,
good warranty conditions.
Cons:
truncated exit pupils,
steep decrease of the image resolution near the edge of the field of view.
In our 8x42 binoculars test the Bushnell Elite model reached a very good result of almost 130 points. Practically, we had only two major complaints: truncated exit pupils and a narrow field of view. One glance at the specifications of the Elite 10x42 ED model and you know that the binoculars doesn't have any problem with the field of view for sure. A value of 6 degrees means that the apparent field of view of the eyepieces amounts to 60 degrees, providing a comfortable angle of view. With the price of about 500 Euro the Bushnell Elite 10x42 seems to be a quite sensible option which has every chance to get more points that its 8x brother. Small wonder we decided to take a closer look at that pair of binoculars and test them thoroughly.
Looking at their final score in the test you can say we weren't disappointed. The binoculars indeed feature a wider apparent field of view of the eyepieces – in fact that value is in perfect accordance with the specifications.
Smaller exit pupils are perhaps a little less truncated than in the 8x42 model but still the binoculars are far from perfect in this category. A steep resolution decrease on the edge of the field of vision is a bit worrisome but it came hardly as a surprise. Already the 8x42 model, despite its narrow field of vision, corrected the edges moderately well. Applying much more demanding 60-degree eyepieces made the problems only more pronounced.
On the one hand you might be surprised by the fact that this instrument has a noticeably lower transmission level than the 8x42 model. On the other hand you should take into account a completely different design of the eyepieces, with different number of elements and perhaps also with different coatings. There are no serious reasons to complain, though, especially that the colour rendering improved a bit.
In other categories the result of these binoculars are very good or even excellent. The correction of distortion and also other optical aberrations like chromatic aberration, coma or astigmatism is impressive. If you add to that a compact but solid casing, which is not only pretty stylish but also comfortable to hold and to look through, you get a pair of binoculars certainly worth your interest.
As we've already started talking about the casing and the build quality we would like to admit the recent efforts of different producers to persuade their customers they are actual producers, not just employers, are interesting indeed. The Elite 8x42 came with a clear information that it was made in Japan. The 10x42 model, although identical when it comes to the appearance, has an inscription "Assembled in USA". To tell you the truth both "USA" and "Japan" look equally good to me; perhaps it is the reason why I am not particularly interested what that "assembled" part actually means. Most likely the binoculars and their accessories were packed into boxes in the USA but it really doesn't matter. The important thing is that we deal here with a very good and solid device which can be bought for a sensible amount of money and completely recommendable. The optics performance is on a very high level and a good result of the 8x42 model in our endurance test suggest that these binoculars might be used and enjoyed for many years without any problems.