Fujinon FMT-SX 7x50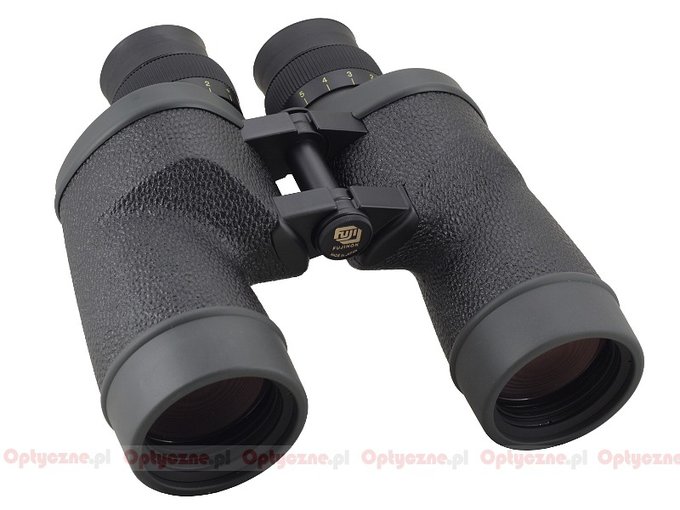 The Fujinon FMT-SX 7x50 is a big and solid pair of binoculars from the top-of-the-range series of this renowned producer which also includes the following models: 8x30 (most likely not produced any more), 7x50, 10x50, 10x70 and 16x70. All of these instruments are equipped with huge Porro prisms. The binoculars meet US military specifications regarding ruggedness and resistance against pressurized water –according to M24 specification they are shock-proof and also sea waterproof. Their lenses and prisms are digitally designed, made of BaK-4 glass and fully multi-coated using special EBC technique (Electron Beam Coating) which allows as much as 99.9% of light pass through one air-to-glass surface. Such an antireflection layer reduces light flares and is sea waterproof. According to the producer the light transmission for the whole instrument can exceed even a very high level of 95%.
The binoculars of this series are sold in two versions: the FMT-SX and the FMTR-SX. The second one is additionally rubber-padded but both remain completely waterproof and nitrogen filled. The padded FMTR-SX model took part in our big 10x50 class binoculars' test. In the case of the 7x50 class we decided to test a more classic-looking FMT-SX model.
Buyers get a hard case, a strap, caps and a cleaning cloth in the accessory kit. The binoculars come with a 10-year guarantee of the producer.
Manufacturer data
Magnification
Lens diameter
Angular field of view
Prisms
Eye relief
Weight
Price
7
50
131/1000(7.5o)
BaK-4/Porro
23 mm
1420 g
1999 PLN
Results of the review
Real front lens diameter
Left: 50.2+/- 0.05 mm
Right: 50.2+/- 0.05 mm
8 / 8.0 pkt
Real magnification
7.01+/- 0.05x
3/3.0
Transmission
97.9+/- 1.5%
24/25.0
Chromatic aberration
Low in the centre, medium on the edge.
7/10.0
Astigmatism
Very low.
8.5/10.0
Distortion
The distance of the first curved line from the field centre compared to the field of vision radius: 92% +/- 3%
10/10.0
Coma
Occurs in a distance of 75-80% of the radius from the centre of the field of vision and is lower than average on the very edge.
8.7/10.0
Blurring at the edge of the FOV
The blur appears in the distance of 93% +/- 3% from the field of vision's centre.
9/10.0
Darkening at the edge the FOV
Imperceptible.
5/5.0
Whiteness of the image
Transmission of over 90% in the wide range of colours (from 430 to 680 nm). A very good result.
4.5/5.0
Collimation
Perferct.`
5/5.0
Internal reflections

| | |
| --- | --- |
| Left: | Right: |
| | |

Average.
2.5/5.0
Housing
Very solid and robust Porro construction but comfortable to hold in big hands. It seems you can drive a nail with it – but such an impression doesn't hurt. Waterproof and nitrogen filled. Produced in Japan. No mechanical reservations here.
8/8.0
Focusing
Individual. Huge rings on big eyepieces. Comfortable and stable.
5/5.0
Tripod
There is a handy exit.
3/3.0
Interpupilary distance
from 56.2 to 75mm
5/6.0
Closest focusing distance
4.30 metres
1/2.0
Eyepieces FOV
Apparent field of view of 52.6 deg (according to simple formula) and 49.4 deg (according to tangent formula).
5/20.0
Field of view
Measured by us amounted to 7.50 +\- 0.03 and it was in perfect accordance with specifications. Quite a good field for this class of equipment.
6/8.0
Quality of the interior of the barrels
Black and matt inner tubes. Grey bottom and white glue near prisms.
4/5.0
Vignetting

| | |
| --- | --- |
| Left: | Right: |
| | |

OL: 0.74%, OR: 1.62%
6.5/8.0
Prisms quality
High quality BaK-4.
8/8.0
Antireflection coatings
Green on objectives, purple on prisms, green-purple-pink on eyepieces. Low intensity.
5/5.0
Warranty [years]
10
4.5/6.0
Final result

82.2%

156.2 / 190 pkt
Econo result
0pkt.
Summary
Pros:
huge, solid casing of sound workmanship,
sensational transmission,
very good colour rendering,
low astigmatism,
very well-corrected coma,
imperceptible distortion,
sharp image almost to the edge of the field of vision,
no brightness loss on the edge of the field of vision,
good blackening and cleanliness inside inner tubes,
high quality prisms and coatings.
Cons:
a bit truncated exit pupils,
the area around exit pupils a bit too light.
Let's start by comparing the tested binoculars to their most serious rivals – a chart, published below will make it easier. You can notice that among the whole group of sealed Porro devices produced by the most renowned manufacturers the Fujinon provides the best field of view. It is also one of the biggest pairs of binoculars in this class and definitely physically the heaviest – those huge Porro prisms and a solid casing have to weigh a lot.
In the photo below the tested instrument is situated next to the Docter Nobilem 7x50 B/GA. You can see clearly that we deal here with two binoculars of roughly the same dimensions. Large eyepieces of the Fujinon stick out – they are definitely bigger than those of the Docter.

The Fujinon impressed us especially with its transmission. Although the results presented by its competitors like the Steiner Commander or the Docter Nobilem were splendid as well, those of the Fujinon are simply brilliant. In the middle of the visible spectrum the transmission reaches the value of 98% and an excellent level of over 90% is kept in a wide range of wavelengths, from 430 to 680 nm.
The binoculars didn't manage to avoid some slip-ups. Too light area around exit pupils and the shape of these pupils, as they are slightly truncated despite those huge prisms, can be counted among them. These flaws are not very important, though, and they are easily compensated by very good or downward excellent achievements in other categories. Overall the final score in our test reached a splendid level of over 146 points. Only few other pairs of binoculars managed to accomplish such a feat and all of them are far more expensive than the Fujinon, tested here.
We can write with a clear conscience that the Fujinon FMT-SX 7x50 is one of the best pairs of binoculars available on the market at a not especially steep price when you compare it to the possibilities of that instrument. We do recommend it wholeheartedly!