Steiner Commander XP 7x50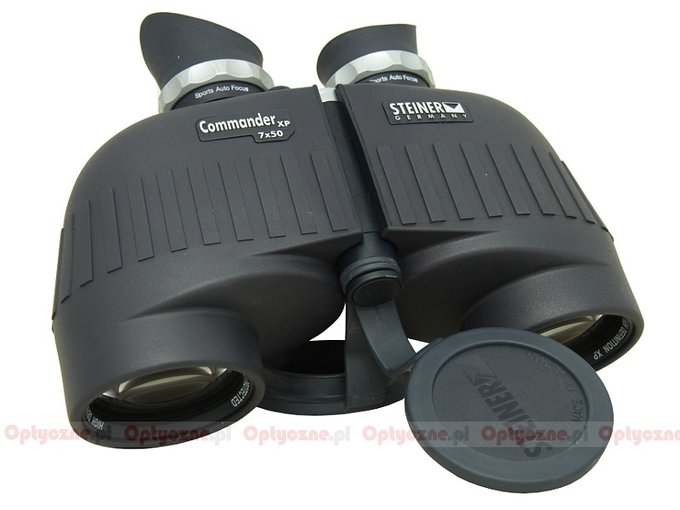 The German company Steiner has been producing binoculars aimed at four groups of customers: nature watchers, hunters, tourists and yachtsmen and/or sailors. Two series of new products have been designed with exactly these last two groups in mind: cheaper Navigators and more expensive Commanders XP. In both cases the series consists of two Porro sets of binoculars: the 7x30 and 7x50 and you can choose between products with or without inbuilt compass.
We managed to obtain the Steiner Commander XP 7x50 without the compass. Next to the NightHunter 8x56 Xtreme it is the most expensive pair of Porro binoculars on offer of that reputable German producer. Small wonder they didn't save on anything. The binoculars are supposed to feature high quality optics with every air-to-glass surface covered by high quality coatings, all of it closed in a splendid casing, which is supposed to be waterproof up to a depth of 10 meters. Of course the instrument is nitrogen-filled with a possibility of refilling. It is sold in a stylish wooden suitcase, with caps and a special flotation strap. The binoculars have been produced completely in Germany and it still comes with a 30-year guarantee.
Manufacturer data
Magnification
Lens diameter
Angular field of view
Prisms
Eye relief
Weight
Price
7
50
130/1000(7.4o)
BaK-4/Porro
? mm
1075 g
3880 PLN
Results of the review
Real front lens diameter
Left: 49.93+/- 0.05 mm
Right: 49.98+/- 0.05 mm
8 / 8.0 pkt
Real magnification
7.13+/- 0.05x
3/3.0
Transmission
93.2+/- 1.5%
21/25.0
Chromatic aberration
Very low in the centre and on the edge.
8.8/10.0
Astigmatism
Unfortunately significant. Stars are not point-like always sparking.
4/10.0
Distortion
The distance of the first curved line from the field centre compared to the field of view radius: 81% +/- 3%
10/10.0
Coma
Appears near 70% of the field and on the edge is a bit higher than medium.
6.8/10.0
Blurring at the edge of the FOV
The blur occurs in the distance of 90% +/- 3% from the field of vision centre.
8/10.0
Darkening at the edge the FOV
Slight but noticeable.
4.1/5.0
Whiteness of the image
Nice, relatively flat transmission curve. Very good whiteness rendering.
4.8/5.0
Collimation
Perfect.
5/5.0
Internal reflections

| | |
| --- | --- |
| Left: | Right: |
| | |

The area near the exit pupil a bit too light.
2.6/5.0
Housing
Big and solid Porro device. Short but wide. High quality rubber padding. Comfortable to hold in big hands. Rubberized wrap-around eyecups and a folded sidelight hood. Nothing sticks out.
8/8.0
Focusing
Individual on both eyepieces (from -5 to +5 dpt). Comfortable rings with finger grooves, retractable with yellowish position markers.
5/5.0
Tripod
No. In the place of a tripod mount there are traps for objective caps.
0/3.0
Interpupilary distance
from 56.7 to 74.1mm
5/6.0
Closest focusing distance
3.5 meters. A quite good result for a big Porro construction with individual focusing but overall just average.
1.5/2.0
Eyepieces FOV
Apparent field of view of 51.9 deg (according to simple formula) and 48.8 deg (according to tangent formula).
4/20.0
Field of view
Measured by us amounted to 7.28 +/- 0.04 degrees and it as a tad narrower than stated in specifications. Typical field for this class of equipment.
5.5/8.0
Quality of the interior of the barrels
Black and matt – perfect. Isolated specs of dust, almost imperceptible.
4.8/5.0
Vignetting

| | |
| --- | --- |
| Left: | Right: |
| | |

OL: 2.15% OR: 0.66%
6/8.0
Prisms quality
Despite the fact that the binoculars are big and they feature BaK-4 prisms they don't refract light near edges in a perfect way. The pupils show slight gray areas like in the case of cheap Bk7 prims.
OL: 0.96%, OR: 0.76%
7/8.0
Antireflection coatings
Green-yellow-purple on objectives, yellowish on prisms and yellow-purple on eyepieces. Low intensity.
5/5.0
Warranty [years]
30
5/6.0
Final result

75.2%

142.9 / 190 pkt
Econo result
0pkt.
Summary
Pros:
splendid workmanship,
high transmission,
excellent whiteness rendering,
very well corrected chromatic aberration,
well corrected coma,
low distortion,
slight brightness loss on the edge of the field,
sharp image in most part of the field of view,
excellent quality of antireflective coatings,
perfect blackening inside inner tubes,
long warranty,
rich selection of accessories.
Cons:
vignetting prisms
noticeable astigmatism,
a bit too light area near exit pupils.
Steiner Commander XP 7x50 is a very interesting optical instrument and, undoubtedly, a pair of binoculars directed at wealthy customers. The company tries to woo them by offering high build quality, German solidity, good optics, long warranty and a very stylish little suitcase in which the binoculars are sold. The binoculars cost less than 1000 Euro so definitely aren't cheap. On the other hand they are noticeably cheaper than other 7x50 or 8x50 class instruments, offered by such companies as Leica, Swarovski or Zeiss.
In fact, even not so long ago, it was not the Steiner's line-up 7x50 flagship model. Several years ago if you wanted to buy a good 7x50 Porro instrument your range of choice was far greater. Steiner offered such parameters also in Night Hunter and Ranger class. Nowadays only the Commander and the Navigator are standing the ground. Apparently the producer decided there is no point in duplicating the offer – after all, hunters and astronomy enthusiasts, interested in classic 7x50 devices, can buy a Navigator or a Commander instead of a Night Hunter or a Ranger. On the one hand such a reasoning is logical – a good set of binoculars will turn out to be a good set of binoculars, no matter what conditions. On the other hand, as a customer I wish I had a wider selection of choices especially that Porro binoculars have been steadily driven from the market by roof prisms devices, often optically worse.
If you deal with a flagship model you can be pretty demanding. Does the Steiner Commander XP 7x50 meet those demands? In many categories definitely it does. First of all the binoculars are splendidly made – they are huge and make an impression of a truly armoured instrument. A transmission graph, shown below proves the high quality of optical technologies, implemented here.

You can notice that the coatings are of the highest quality. The transmission reaches a maximum level of 94-95% and, in a wide range of the spectrum, it exceeds 90% which ensures a very good colour rendition and a clear, high-contrast image. If you add to it a good or very good correction of most of optical aberrations we get an instrument undoubtedly worth your interest. Is it perfect, though? No, because the binoculars had some slip-ups and in surprising categories to add.
Looking at the dimensions of the Commander, vignetting prisms would be the last problem coming into my mind. Unfortunately the vignetting is noticeable and even in two ways. First of all the prisms are a bit too small so the exit pupils are slightly truncated. What's more, light near their edges doesn't refract in sufficiently effective way so you can notice small, gray "diamonds" like in cheap binoculars with Bk7 glass prisms. I don't know what type of glass is used by Steiner company but Steiner Night Hunter XP 8x56 – another top-of-the-range pair of binoculars from this producer showed similar behavior. In high quality equipment such a slip-up is simply a jarring note.
The second flaw concerns noticeable astigmatism. I wonder what is the reason of it because the old Ranger 10x50, very similar to the Commander when it comes to dimensions and build, also featured that. Perhaps it is an innate flaw of short Porro Steiner devices?
I wouldn't wish to end the summary of an, after all, very well-made pair of binoculars in a negative way. Looking objectively it would be difficult to be not satisfied with such an instrument. The market has two pieces of information for the Commander, though. The first piece is bad – there are very strong and a bit cheaper rivals out there, in the shape of the Docter Nobilem 7x50 B/GA and the Fujinon FMTR-SX 7x50. The second is good. The photo below shows clearly that, when it comes to parameters, the Steiner offers a bit more (or rather you should say a bit less) than both the Docter and the Fujinon.