Minox HG 8.5x52 BR MIG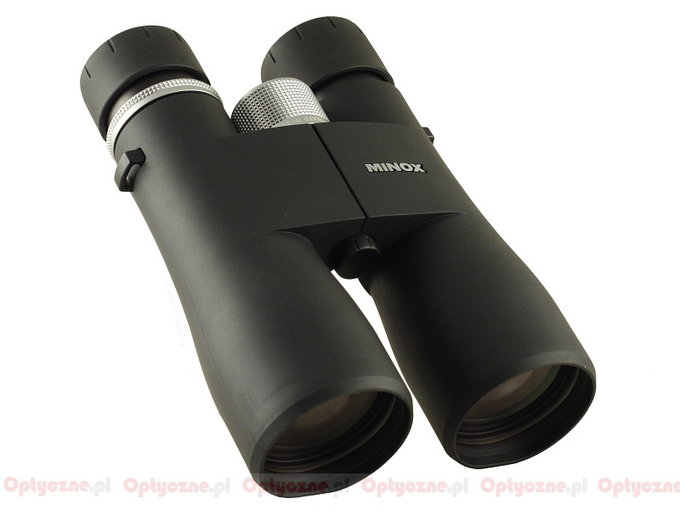 Even several years ago the top-of-the-range Minox series, marked by HG symbol, was produced in Japan. In 2009 Minox decided that the series would be manufactured again in Germany. Currently it consists of binoculars with the following parameters: 8x33, 10x33, 8x43, 10x43, 8.5x52, 10x52 and 8x56.
The Minox HG 8.5x52 BR MIG pair of binoculars is a roof prism instrument based on Schmidt-Pechan prisms which are phase correction coated and additionally covered by a special, silver-based Mino-Bright reflection coating. The optics is made of glass produced by the SCHOTT AG company. All air-to-glass surfaces are to be covered by 21-layer antireflection M* coatings. As a result the maximum overall transmission of the instrument is supposed to reach a level of 92%. The casing of these binoculars is made of magnesium alloys and, additionally, waterproof (up to a depth of 5 m) and nitrogen-filled. The buyer gets caps for objectives and eyepieces a comfortable strap and a case included in box. All sets of binoculars from the HG series come with the guarantee as long as 30 years.
Manufacturer data
Magnification
Lens diameter
Angular field of view
Prisms
Eye relief
Weight
Price
8.5
52
102/1000(5.8o)
BaK-4/roof
19.4 mm
775 g
3490 PLN
Results of the review
Real front lens diameter
Left: 51.58+/- 0.05 mm
Right: 51.65+/- 0.05 mm
6 / 8.0 pkt
Real magnification
8.77+/- 0.05x
3/3.0
Transmission
87.2+/- 1.5%
15/25.0
Chromatic aberration
A bit lower than average in the centre, high on the edge.
3.7/10.0
Astigmatism
Negligible.
9/10.0
Distortion
The distance of the first curved line from the field centre compared to the field of view radius:75% +\- 5%
9/10.0
Coma
Starts in the distance of about 75% from the field centre and is on the borderline between low and medium level on the edge.
8/10.0
Blurring at the edge of the FOV
The blur occurs in the distance of 91% +\- 3% from the field of vision centre.
8/10.0
Darkening at the edge the FOV
Not high.
3.9/5.0
Whiteness of the image
Slight inclination of the transmission curve with the growth tendency toward the red light.
4.1/5.0
Collimation
Perfect.
5/5.0
Internal reflections

| | |
| --- | --- |
| Left: | Right: |
| | |

Low.
3.9/5.0
Housing
Solid. Comfortable to hold and to look through. Good quality, matt rubber padding, allowing you a firm grip. Rubberized eyecups with 4 regulation stops. The rubber near objectives sticks out.
7.3/8.0
Focusing
Big, comfortable and metallic central wheel with the working range of 360 degrees. It features a distance scale and moves very comfortably. Individual focusing performed by a narrow, shiftable ring on the right eyepiece. It moves the outer lens.
4.6/5.0
Tripod
There is a comfortable tripod exit.
3/3.0
Interpupilary distance
from 58.9 to 74.6mm
5/6.0
Closest focusing distance
2.65 m.
2/2.0
Eyepieces FOV
Apparent field of view of 50.9 deg (according to simple formula) and 47.9 deg (according to tangent formula).
4/20.0
Field of view
Measured by us amounted to 5.80 +\- 0.03 degrees and it was in perfect accordance with the specifications.
5/8.0
Quality of the interior of the barrels
Tubes black, matt above, shiny below. Grey bottom. Clean.
4.2/5.0
Vignetting

| | |
| --- | --- |
| Left: | Right: |
| | |

OL: 0.49%, OR: 0.61%
7/8.0
Prisms quality
High quality BaK-4.
8/8.0
Antireflection coatings
Orange-pink on the objectives, greenish on prisms, purple-pink-green on eyepieces. Low intensity.
5/5.0
Warranty [years]
30
5/6.0
Final result

73%

138.7 / 190 pkt
Econo result
0pkt.
Summary
Pros:
solid and compact casing, not so big for such parameters,
very low weight for a 52 mm objective,
good transmission level,
negligible astigmatism,
negligible distortion,
low coma,
low brightness loss on the edge of the field of vision,
sharp image in almost the whole field of vision,
high quality of prisms and coatings,
good whiteness rendition,
good blackening and cleanliness inside the tubes,
almost perfectly circular pupils on dark background,
long guarantee period.
Cons:
significant chromatic aberration,
field of vision could have been wider.
The Minox company definitely prefers untypical parameters. It is perhaps the only manufacturer on the market which has offered binoculars with the objective lenses 58 mm and 52 mm in diameter. In the case of the latter group of instruments we shouldn't be surprised by the fact that 10x52 pairs of binoculars are so close to classic devices. One of them we even had an opportunity to test during our big test of 10x50 binoculars. If a producer features such an instrument in its line-up it usually offers also 7x50 and 12x50 models to have a full complement. Not so long ago a quite narrow 8x50 category was introduced to the market as well. When it comes to it, Minox went half a step further and launched an even more untypical model so the HG 8.5x52 BR.
In spite of appearances it makes a lot of sense. With such an objective diameter the 8.5x magnification is, so to speak, in the middle between typical night and marine 7x50 parameters and very universal 10x50 ones. The untypical 8.5x52 combination offers us also equally untypical exit pupil, with a diameter of 6.12 mm. As a result we get an instrument directed toward usages in poor lighting conditions but not featuring such a big pupil as in the classic 7x50, 8x56 or 9x63 night models.
The objective diameter, amounting to 52 mm, makes the set of binoculars gather 8% of light more than a typical 50 mm device; however, compared to a 56 mm objective, it loses 16%. As a result 8.5x52 parameters make the binoculars a perfect instrument for elderly people, which eye pupil can't dilate to 7 mm, or for those who normally use it at night but don't want to lose the versatility factor and, from time to time, also observe something in better light conditions. That's why they are not always interested in big and heavy 8x56 binoculars. Constructing the HG model Minox perhaps had exactly those users in mind because the company focused on offering a really lightweight device. The process of slimming down was so efficient that the tested pair of binoculars weighs as much as heavier 42 mm class instruments and is definitely less than most of 50 mm binoculars, available on the market. It is undeniably an asset if you compare it to big and heavy 8x56 class. We get a handy set of binoculars for night usages, which doesn't weigh much and can show less than a classic 8x56 device only for young people.
In the case of binoculars the slimming down gives the best results when it comes to prisms but their excessive diminishing might have an adverse effect on exit pupils, making them heavily truncated. Fortunately the Minox managed to avoid that but still it had to pay a price. The field of view, amounting to just 5.8 degrees, was scarified here – this parameter is hardly impressive. It's enough to remind that the majority of good 8x56 binoculars feature fields of view over 6 degrees, some even reaching 7 degrees. One glance at the following chart is enough to find out that the most serious rivals of the Minox in this price-quality segment have wider fields of view.
The second and the last drawback of the Germany manufactured Minox HG 8.5x52 is too high level of chromatic aberration. It can also be, at least partially, an effect of slimming the device down. The shorter the binoculars are, the shorter their focal length is. With a given diameter you have to use fast lenses and these are more difficult to correct when it comes exactly to that aberration.
Fortunately the cons list of the tested Minox is short as well. If you add that the binoculars correct most of optical aberration on at least good, and in many categories even excellent level, and their build quality is high, we get the final score amounting to a very impressive value of almost 136 points. If a wide field of view in a pair of binoculars is not your priority, we can recomment the Minox HG HG 8.5x52 BR MIG with a clear conscience.