Carl Zeiss Jena Deltrintem 8x30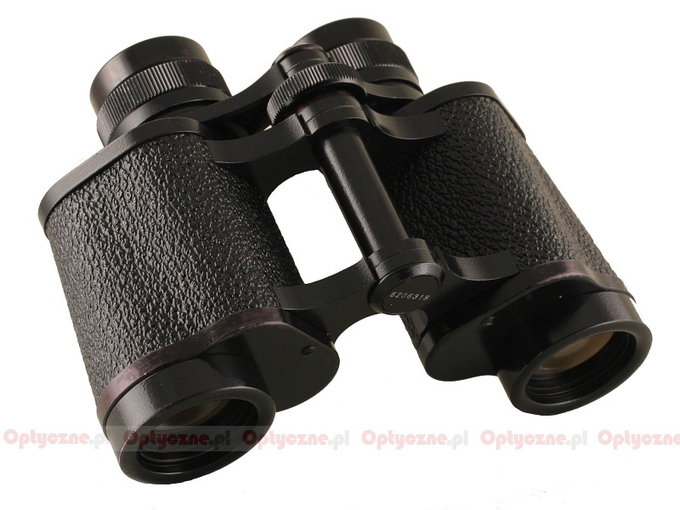 The Carl Zeiss Jena Deltrintem 8x30 binoculars and its individual focus version, known under the name of Deltrentis, were produced in Jena from 1920 to 1990 practically without cease.
These are classic Porro prism instruments with achromatic objectives. At first these binoculars contained 4 lens-elements ocular without any antireflection coatings. During the WWII one layer of magnesium fluoride coating was put on air-to-glass surfaces. In 1947 the ocular was replaced by an Erfle design with 5 lens-elements which was supposed to provide a wide field of view with minimum distortion level. In 1978 the producer started to use new multilayer coatings with the characteristic orange-purple hue.
Around 1990 when the Jena plant was taken over by the Docter company, the binoculars not only didn't go out of production but even were given improved multi-coatings. Its production, already under the Doctor brand name, ceased only ca.1995.
The specimen we've tested is marked with a serial number of 6206318 which means it was produced in 1985 and, being so, it already boasts newer multilayer coatings. You can find a narrow strap and a small soft case included with the binoculars.
Manufacturer data
Magnification
Lens diameter
Angular field of view
Prisms
Eye relief
Weight
Price
8
30
150/1000(8.5o)
Bak-4/Porro
? mm
520 g
400 PLN
Results of the review
Real front lens diameter
Left: 30.05+/- 0.05 mm
Right: 30.05+/- 0.05 mm
8 / 8.0 pkt
Real magnification
8.02+/- 0.15x
3/3.0
Transmission
92.2+/- 1.5%
20/25.0
Chromatic aberration
Good to average correction in the centre, not very high at the edge.
6.5/10.0
Astigmatism
Slight.
6.3/10.0
Distortion
The distance of the first curved line from the field centre compared to the field of view radius: 31% ± 3%
3/10.0
Coma
Quite significant, especially at the very edge.
4.8/10.0
Blurring at the edge of the FOV
The blur occurs in the distance of 64% ± 5% from the field of view centre.
1.5/10.0
Darkening at the edge the FOV
Between medium and low.
3.8/5.0
Whiteness of the image
Distinct yellow. The transmission curve peaks sharply near 550 nm.
1/5.0
Collimation
Perfect.
5/5.0
Internal reflections

| | |
| --- | --- |
| Left: | Right: |
| | |

A lot of reflections from the area near prisms.
2.3/5.0
Housing
A classic Porro set of binoculars with an ocular bridge. Comfortable to hold. Eyecups a bit too small and not regulated. The binoculars is neither waterproof nor nitrogen-filled. Light and handy.
7/8.0
Focusing
Small central wheel (full turn of 400 degrees). It moves smoothly and evenly. You can't defocus by applying pressure on eyepieces. The bridge has a slight lateral "play". Individual focusing on the right eyepiece. It moves the outer lens.
4.1/5.0
Tripod
Lack of tripod exit. In our 8x32 binoculars test we granted all the instruments the average mark of 1.5 points as in the case of the equipment of this class a tripod adapter is rarely used.
1.5/3.0
Interpupilary distance
from 47.3 to 76mm
6/6.0
Closest focusing distance
1.9 m
1.5/2.0
Eyepieces FOV
Apparent field of view of 67.5 deg (according to simple formula) and 61.1 deg (according to tangent formula).
15/20.0
Field of view
Measured by us amounted to 8.42 ± 0.03 degrees and was a bit smaller than in the specifications. A very big field of view for this parameters' class.
7.5/8.0
Quality of the interior of the barrels
Inner tube black, corrugated and slightly shiny inside. Grey bottom. You can see neither glue nor screws. Isolated specks of dust on prisms.
3.2/5.0
Vignetting

| | |
| --- | --- |
| Left: | Right: |
| | |

Slightly truncated pupils.
OL: 3.2%, OR: 4.1%
3.5/8.0
Prisms quality
Good quality BaK-4.
8/8.0
Antireflection coatings
Bluish on eyepieces and prisms. Orange-purple on objective lenses. Medium instensity.
4.5/5.0
Warranty [years]
1
1/6.0
Final result

67.4%

128 / 190 pkt
Econo result
0pkt.
Summary
Pros:
classic and solid casing,
very wide field of view,
high transmission level in the middle of the visible spectrum,
slight astigmatism,
chromatic aberration quite well-corrected,
eyepieces can be set very wide apart,
good quality of BaK-4 prisms.
Cons:
significant blur at the edge of the field of view,
distinctly yellow image,
noticeable distortion,
a lot of flares from the areas near prisms,
small eye relief,
slightly truncated pupils.
Our 8x32 class binoculars test couldn't lack classic Zeiss devices from Jena. There were so many of them produced over the years that you can still find many well-cared-for specimens on the secondary market, available at a very affordable price - from around 50 to 150 Euro. While testing this pair of binoculars we were stimulated not only by sheer curiosity how an instrument produced 20 or 30 years ago compares with contemporary products but also by deep belief that it can outperform many devices currently produced in China. Time for a reality check.
Let's start with evident advantages. The tested set of binoculars is 25-year-old. Despite some abrasions on the casing, being a result of ordinary wear and tear and more specifically frequent taking off and putting into the case, it is in a very good shape – we found no serious scratches or dents. Its optics is even in a better shape than the casing. The lenses are clean and flawless, without any mould inside. There are some specks of dust on the prisms but it is quite understandable taking into account the age of the device. Its condition places the workmanship quality in a very favourable light – after next twenty five years the Deltrintem 8x30, tested here, will look still the same, providing it is used in a similar way of course. I doubt whether any contemporary product made in China and bought for a sum not exceeding 250 Euro is able to survive equally well even a much shorter period of time.
The next advantage is the field of view. Once a huge field of view counted a lot and the Deltrintem boasts such a feature. It is almost by half a degree wider than the widest field of view found in contemporary competitors, even those very reputable.
The set of binoculars corrects astigmatism and chromatic aberration quite well. You can't complain about the coma level too much either. The parameters, given by the producer, are followed with perfect exactitude – the objective lens's diameter and magnification are in accordance with the numbers in documentation.
The classic Porro prism construction, not many optical elements and multilayer coatings made the transmission in the middle of the visual spectrum rather high, amounting to 92-93%. This result is very good – in fact other cheaper roof-prism instruments can only dream of it.
The colour fidelity can be a problem, though. In the 80s of 20th century the coatings were already multi-layered but still optimized only for the centre of visual spectrum. It had the effect which can be witnessed here - the transmission for yellow light is high but for blue and red it becomes even by 20% worse. As a result the image is seriously yellow.
As we've already passed to disadvantages, we must also mention the other negative points. The edge of the field of view, which is not sharp enough, and noticeable distortion can be certainly counted among them. What's more, the usage of such wide-angle eyepieces made the exit pupils distinctly truncated.
Nowadays, most of binoculars, even those cheaper ones are waterproof and nitrogen-filled. In the case of the Deltrintem 8x30 we can't count on that.
To sum up despite the passage of time the Deltrintem 8x30 seems to be still a very interesting option. Although you can get a bargain, usually you must pay for this device about 80-100 Euro, sometimes even 130 Euro. For such an amount of money you would be hard-pressed to find a really good 8x30 or 8x32 alternative so the Jena product is still attractive.
The risk, involved in purchasing anything on the second hand market is an issue, though. It happens very often that a set of binoculars touted by its seller as "in perfect condition" can be hardly described as such. This bad practice is notoriously common. As I needed to buy a lot of items on Allegro and e-bay to perform this test among other things, I could cite plenty of interesting cases from my own experience – I might be even tempted to write a separate article about it. Let me just state here that sometimes I drove to a seller just to have a look at a Jena pair of binoculars which had been touted as perfect only to find out that it was in appalling state – completely uncolimated or with huge amount of mould inside. Fakes are also a problem and the ingenuity people use in this area is really unlimited. Some cases I have seen decidedly deserve a place in the article I mentioned above.
Anyway if you decide to buy something on the second hand market you must give it your full attention – otherwise you might end up sending your bargain purchase to an optics specialists and paying extra money for repair or cleaning. I do recommend buying only from sources you can rely on and the direct contact is always the best.