Kahles 8x32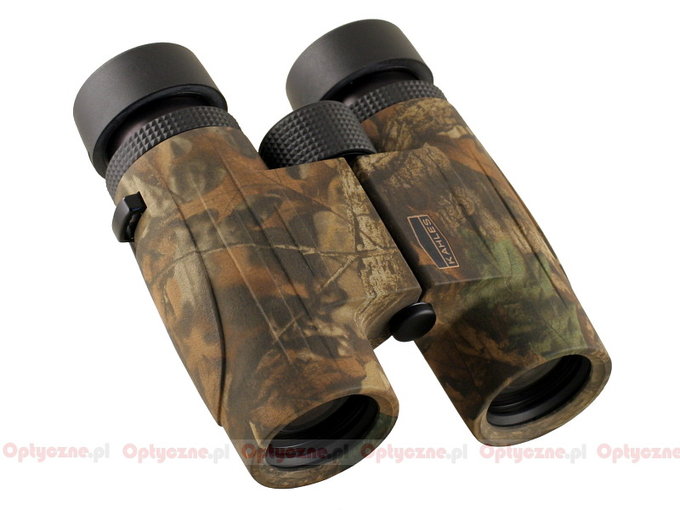 The number of binoculars, produced by the Kahles company from Austria, and being currently on offer, is quite modest; it consist of just three roof-prismatic models with the following parameters: 8×32, 8×42 and 10×42. All of them are equipped with AMV antireflection coatings which task is to ensure a high level of transmission (the highest in the range of 500-540 nanometers, to which our eyes are the most sensitive). The Schmidt-Pechan prisms are phase correction coated. The whole optics is put inside a metal barrel covered by high quality rubber padding. All instruments are waterproof and nitrogen-filled. The binoculars are available in three colour versions (grey, green, camouflage).
A rich selection of accessories we get included is worth emphasizing here. Apart from straps, caps and a case we also get additional profiled eyecups.
Manufacturer data
Magnification
Lens diameter
Angular field of view
Prisms
Eye relief
Weight
Price
8
32
133/1000(7.6o)
BaK-4/roof
16 mm
610 g
3190 PLN
Results of the review
Real front lens diameter
Left: 32.03+/- 0.05 mm
Right: 32.02+/- 0.05 mm
8 / 8.0 pkt
Real magnification
7.98+/- 0.05x
3/3.0
Transmission
91.3+/- 1.5%
19/25.0
Chromatic aberration
Medium in the centre, significant on the edge.
4.4/10.0
Astigmatism
Corrected in a very good way.
8.7/10.0
Distortion
The distance of the first curved line from the field centre compared to the field of vision radius: 47% ±4%
5/10.0
Coma
Appears only in the 3/4 of the field and on the very edge it is between low and medium.
7.6/10.0
Blurring at the edge of the FOV
The blur occurs in the distance of 78% ±4% from the field of view centre.
5/10.0
Darkening at the edge the FOV
Slight.
3.9/5.0
Whiteness of the image
Very good. Quite flat transmission curve in the most part of the visible spectrum.
4.6/5.0
Collimation
Perfect.
5/5.0
Internal reflections

| | |
| --- | --- |
| Left: | Right: |
| | |

Noticeable but not especially bothersome.
3.8/5.0
Housing
Very solid. Comfortable to hold and to look through. A bit too slippery padding. Plastic eyecups without click stop with the final lock. The rubber next to the central roller sticks out a lot.
6.9/8.0
Focusing
Comfortable central wheel which moves smoothly (full turn of 450 degrees). Individual focusing on the right eyepiece moves the outer lens and is rather stiff.
4.1/5.0
Tripod
There is a tripod exit but it's moderately comfortable. In the 8x32 binoculars' test we awarded all instruments the same, average value of 1.5 points in this category as a tripod exit is rarely used in this class of equipment.
1.5/3.0
Interpupilary distance
from 58.9 to 74.5mm
5/6.0
Closest focusing distance
1.17 m
2/2.0
Eyepieces FOV
Apparent field of view of 60.4 deg (according to simple formula) and 55.7 deg (according to tangent formula).
11/20.0
Field of view
Measured by us amounted to 7.57 ±0.03 degrees and it was in accordance with the specifications. A typical field of view for the equipment of this class.
6/8.0
Quality of the interior of the barrels
Inner tubes black and slightly shiny. Grey bottom. Clean.
3.7/5.0
Vignetting

| | |
| --- | --- |
| Left: | Right: |
| | |

OL: 0.0%, OP: 0.0%
Perfectly round and not truncated exit pupils.
8/8.0
Prisms quality
Good quality BaK-4.
8/8.0
Antireflection coatings
Yellow-orange on the objectives. Greenish on the prisms. Green-purple on the eyepieces. Low intensity.
5/5.0
Warranty [years]
25
5/6.0
Final result

75.9%

144.2 / 190 pkt
Econo result
0pkt.
Summary
Pros:
handy, not very heavy casing of good build quality,
very high transmission,
splendidly corrected astigmatism,
slight coma,
low brightness loss on the edge of the field,
very good whiteness rendition,
low reflections near exit pupils,
perfectly round exit pupils,
high quality of coatings,
good BaK-4 prisms,
long warranty.
Cons:
too high chromatic aberration.
If you compare the number of pros and cons, the parameters of the binoculars and its score in our test you can say unambiguously that we deal with a very well-made instrument. The Kahles had just one major slip-up, connected with the high level of chromatic aberration on the edge of the field of view. In all other testing categories it got good or very good marks, with the exception of just several categories where its performance was average.
The fact that the Kahles features good optics, which, in its case, the constructors managed to fit into a handy, ergonomic, well-put-together casing is also a huge asset; apart from that the instrument weighs only 610 grams – no mean feat. All 8x32 class binoculars which in our tests fared better than the Kahles are either more expensive or heavier or more expensive and heavier at the same time.
It's worth having a look at the transmission graph because it is a sight to behold. The graph looks like that of the Swarovski EL. Small wonder, though - both companies have common roots and they have been cooperating closely. The transmission is high, in the wide range near the visible spectrum centre it amounts to 90-92%, having a quite flat function graph which ensures good colour rendition.
The Kahles should be also praised for perfectly round exit pupils – a feature not often observed, which might be problematic for heavier binoculars with bigger prisms.
In order to balance our commentary and not to paint a too rosy picture we can carp a bit at the end. We already wrote about the chromatic aberration correction. The distortion and the sharpness on the edge of the field were other things that didn't impress us much. If the Kahles 8x32 had the field of 8 degrees we wouldn't complain at all. Here, however, the field of view is far from record as it amounts to 7.6 degrees. In such a case you should expect a bit better edges.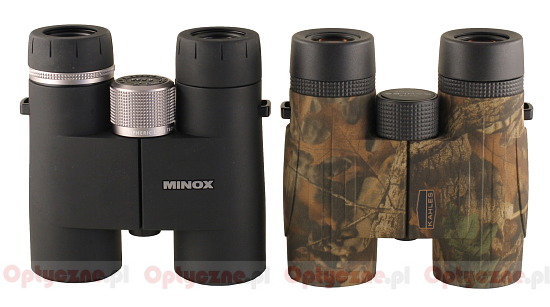 Minox HG 8×33 and Kahles 8×32