Optolyth Royal 8x56 BGA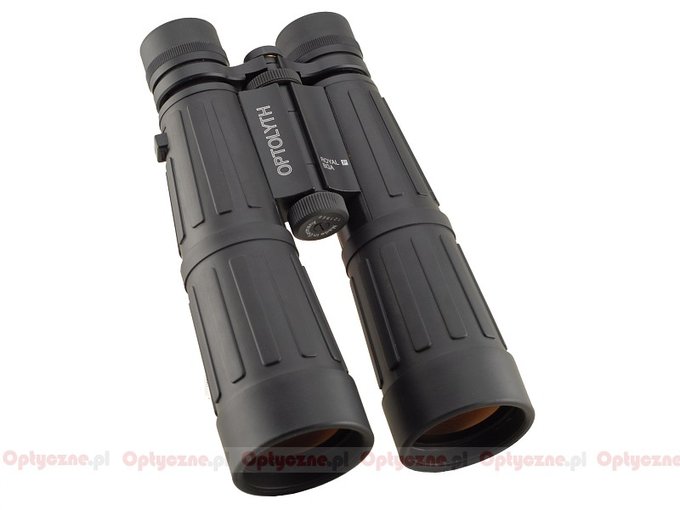 Optolyth is a German manufacturer of binoculars and spotting scopes. It has five binoculars series on its offer. Among them there is a Royal serie, which consists of four roof prismatic models with rather night parameters: 8x56, 10x56, 9x63 and 15x63.
All Royal binoculars are equipped with phase-coated roof prisms of the Abbe-Koenig system, based on total internal reflection phenomenon. That fact, along with modern antireflection coatings is supposed to provide binoculars with a very high transmission level in the whole visible spectrum.
The Royal 8x56 BGA sports an aluminum body with rubber armour. The binoculars are waterproof and filled with nitrogen; the producer gives an impressive, 30 –year-long guarantee.
Manufacturer data
Magnification
Lens diameter
Angular field of view
Prisms
Eye relief
Weight
Price
8
56
110/1000(6.3o)
BaK-4/roof
? mm
1070 g
2999 PLN
Results of the review
Real front lens diameter
Left: 55.8+/- 0.05 mm
Right: 55.7+/- 0.05 mm
7 / 8.0 pkt
Real magnification
7.93+/- 0.15x
3/3.0
Transmission
89.9+/- 1%
17/25.0
Chromatic aberration
Significant but not very high in the centre. Medium at the edge.
6.3/10.0
Astigmatism
Rather low.
8.1/10.0
Distortion
The distance of the first curved line from the field centre compared to the field of view radius: 41% +/- 3%
4/10.0
Coma
Between low and medium value at the very edge; it appears quite far (above 70% from the field centre).
8.7/10.0
Blurring at the edge of the FOV
The blur appears in the distance of 87% +/- 3% from the field of vision centre.
7/10.0
Darkening at the edge the FOV
Noticeable although not very high.
4/5.0
Whiteness of the image
The difference between blue and yellow light transmission a bit too high.
4.4/5.0
Collimation
Exemplary.
5/5.0
Internal reflections

| | |
| --- | --- |
| Left: | Right: |
| | |

False pupils are visible. The background near the exit pupil is not ideally black, you can notice brighter parts.
2.8/5.0
Housing
Long and narrow but comfortable to hold. The rubber armour is nice to touch and, because of the ribs it doesn't slip. Solid. Eyecups only folded, without regulation.
7.5/8.0
Focusing
Narrow central screw (full turn- 450 degrees) plus a classic ocular bridge. It is well-damped and moves smoothly; you can't defocus it by putting a pressure on oculars. You can observe some lateral "play" when the pressure on oculars is applied. The individual focusing on the right ocular works very hard and it moves the whole ocular.
3.7/5.0
Tripod
No.
0/3.0
Interpupilary distance
from 62.9 to 76.7mm
4/6.0
Closest focusing distance
3.4 m.
2/2.0
Eyepieces FOV
Apparent field of view of 48.6 deg (according to simple formula) and 46.0 deg (according to tangent formula).
3/20.0
Field of view
Measured by us it amounted to 6.13 +/- 0.03 degrees and was by 0.17 degree smaller than it was stated in the technical specifications. The field typical for this class of equipment.
4/8.0
Quality of the interior of the barrels
Inner tubes are dark and matt. The bottom is dark-gray. You can see a glowing screw by the prisms. Prisms are clean but on the inner side of the front lenses you can notice a few quite large specks of dust.
4/5.0
Vignetting

| | |
| --- | --- |
| Left: | Right: |
| | |

OL: 6.9%; OP: 1.6%
3.5/8.0
Prisms quality
High class Abbe-Koenig prisms made of BaK-4 glass.
8/8.0
Antireflection coatings
Purple-pink on front lenses, greenish on prisms, green-purple-orange on eyepieces. Low intensity.
5/5.0
Warranty [years]
30 years
5/6.0
Final result

66.8%

127 / 190 pkt
Econo result
0pkt.
Summary
Pros:
high transmission,
interesting barrel - in the old style but solid in the same time,
low astigmatism,
slight coma,
sharp image in the bigger part of the field of view,
slight light fall-off at the edge,
good white reproduction,
quite good blackening and inner tubes cleanliness,
high class Abbe-Koenig prisms,
very good anti-reflective coatings,
long guarantee period.
Cons:
exit pupils truncated and egg-shaped,
distortion a bit too high,
the exit pupils vicinity not very nice,
not many standard accessories.
One look at the picture below doesn't left any doubt about the source the Optolyth Royal constructors used. They decided to focus a bit more on the modernity, though - we have here a bit different ocular bridge and there is no central tube. The barrel itself, in contrast to the classic Zeiss Dialyt, is waterproof and nitrogen-filled. Although both binoculars, presented in the photo, have Abbe-Koenig prisms and achromatic objective lenses they can differ slightly when it comes to the ocular construction; however, it is possible that in both cases we deal with a 3-lens Kellner design.
The transmission graph of the Optolyth looks nice. Near the 600 nm wavelength so for orange light the binoculars let pass as much as 93% of light. The average value for the visible spectrum centre amounts to 89.9% which is a good result. Although when you take into account the fact, that we deal here with Abbe-Koenig prisms where you practically don't waste any light, the transmission could have been a tad higher.
Optolyth Royal 8x56 BGA has much more advantages than disadvantages but you can hardly demand less from a pair of binoculars in this price range. We are concerned by the shape of the exit pupils, though. In the equipment of this class they should be ideally circular and their background should be darker. It is not the case here and it might be considered a huge disadvantage. Apart from these things you can hardly carp at anything – you have here a classic look, good materials, good or very good results in most of optical categories and a decent final score. The question is whether you are prepared to pay about 1000 USD for them? Shouldn't we expect a bit more for such a steep price? I think so, especially that some cheaper binoculars, like a Steiner Ranger 8x56, a Nikon Monarch 8.5x56, a Vixen Ultima 8x56, a Delta Optical Titanium 8x56 or a Minox BL 8x56 BR fared better in our tests.