Fomei Leader 8x56 DCF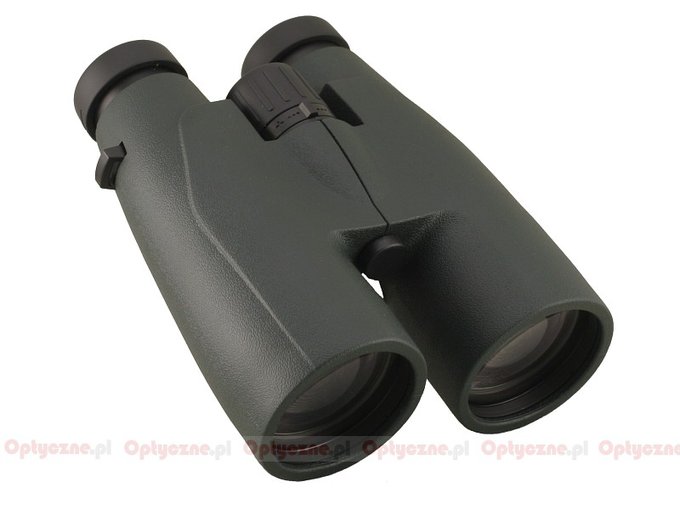 The Fomei Leader 8x56 DCF is one of the newest binoculars made by a Czech company which orders its products in Chinese and Japanese factories. The 8x56 DCF model is a cheap pair of binoculars produced in China. It sports Schmidt-Pechan roof prisms made of BaK-4 glass and it comes with a three-year-long guarantee.
Manufacturer data
Magnification
Lens diameter
Angular field of view
Prisms
Eye relief
Weight
Price
8
56
105/1000(6o)
BaK-4/roof
? mm
940 g
499 PLN
Results of the review
Real front lens diameter
Left: 55+/- 0.05 mm
Right: 55+/- 0.05 mm
3 / 8.0 pkt
Real magnification
8.11+/- 0.15x
3/3.0
Transmission
78.5+/- 1%
9/25.0
Chromatic aberration
Excellent correction both in the field centre and at its edge.
9.2/10.0
Astigmatism
Noticeable but still medium.
5.9/10.0
Distortion
The distance of the first curved line from the field centre compared to the field of view radius: 41% +\- 3%
4/10.0
Coma
It appears already near the centre of the field of view and is huge at the edge.
4.9/10.0
Blurring at the edge of the FOV
The blur appears in the distance of 72% +\- 3% from the centre of the field of view.
3.5/10.0
Darkening at the edge the FOV
Slight.
3.8/5.0
Whiteness of the image
Cream image.
3.3/5.0
Collimation
Exemplary.
5/5.0
Internal reflections

| | |
| --- | --- |
| Left: | Right: |
| | |

Very weak agains bright light. Looking at the Moon we see its two reflections. Partially it is an effect of an average transmission, partially it might be caused by a large false pupil, visible at the edge of the eyepiece.
1.5/5.0
Housing
Small and handy. The veneer's quality is good but you can feel it is slack on the inner tube and it doesn't fit precisely. Regulated eyecups. Comfortable to look through.
7.1/8.0
Focusing
Central screw is convenient, smooth and well-damped (full turn takes 730 degrees). Individual focusing with the usage of a joystick near the central screw. Joystick is a tad too short and might jam. Nothing moves outside.
4.3/5.0
Tripod
Moderately convenient exit.
2/3.0
Interpupilary distance
from 57.1 to 72.2mm
3/6.0
Closest focusing distance
2.80 m
2/2.0
Eyepieces FOV
Eyepieces with the apparent field of view of 48.4 deg (according to simple formula) and 45.8 deg (according to tangent formula).
3/20.0
Field of view
Measured by us it amounted to 5.97 degrees +\- 0.03 degree and it was in accordance with the specification in the margin of error. The field of view typical for this class of equipment.
5/8.0
Quality of the interior of the barrels
Dark and gray inside but a bit shiny. Some specks of dust. A big scratch on the left prism.
2.3/5.0
Vignetting

| | |
| --- | --- |
| Left: | Right: |
| | |

OL: 3.0%, OR: 2.1%
Truncated pupils are the effect of too small prisms.
4.5/8.0
Prisms quality
Good BaK-4.
8/8.0
Antireflection coatings
Greenish on objective lenses, green-blue on eyepieces, no visible coatings on prisms. Medium intensity.
3.5/5.0
Warranty [years]
3
3/6.0
Final result

54.6%

103.8 / 190 pkt
Econo result
0pkt.
Summary
Pros:
quite solid barrel,
excellent chromatic aberration correction,
slight light fall-off at the edge of the field of view,
exemplary collimation,
good BaK-4 prisms,
sharp image from 2.8 meters.
Cons:
low transmission in the blue and green part of the spectrum,
truncated exit pupils,
very weak against bright light,
image sharpness at the edge of the field of view should have been better,
maximum IPD too narrow.

The final result certainly can't bowl anybody over. If you thought, however, that a roof-prism set of binoculars with 8x56 parameters and the price tag of 150 Euro would achieve a fantastic result you either believe in miracles or you don't believe in the laws of physics. Excellent anti-reflection coatings, big, high-quality prisms with an efficient reflection layer and phase correction inside a solid, nitrogen-filled and waterproof housing –these features in a night 8x56 class instrument are simply a must. You can't have it all for 150 Euro and you shouldn't kid yourself that it is somehow possible.
What's more, looking at the tested binoculars from the perspective of its price there is really nothing to criticize. After all, the score above 100 points is not bad – in our tests we consider it to be a medium level. We get what we've paid for. The binoculars don't look shoddy - it won't fall apart after a year of usage, a prism won't come off if the instrument falls down on a table (such things do happen in the case of the cheapest devices). The Leader 8x56 has an excellent chromatic aberration correction level, its prisms are of high quality and its edge brightness loss is very slight. In all different test categories it achieved average or a bit lower than average results and evident slip-ups are just few. We can count among them weak work against bright light, low transmission in the blue and green part of the visible spectrum and truncated pupils.