Docter 8x58 B/CF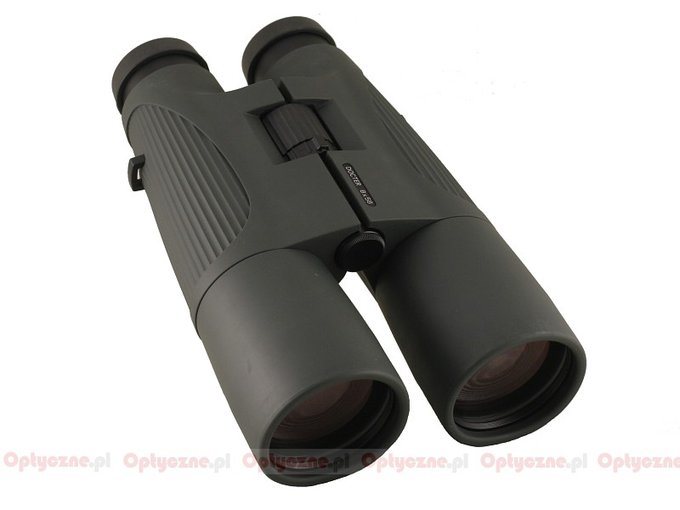 The Analytik Jena company, the manufacturer of Docter binoculars, is one of the most enigmatic companies on the binoculars market. When the news about the roof-prism Docter 8x58 B/CF was released at first it was difficult to find the device on the producer's site. At first it hit the shelves in Germany, then, not long afterwards, it was launched in Poland and only after a few months the manufacturer acknowledged its existence officially and put it on the list of other binoculars on its Internet site.
Currently, the binoculars is fully featured there with some pictures, a list of parameters, a short description and some PDF files with an instruction manual and a promotional brochure. Owning to that fact you can find out some precise info about the device itself. The manufacturer boasts of using 4-element objective lenses and 5-element eyepieces. When it comes to the prisms one glance is enough to say that they are put in the roof system. Significant weight and length of the binoculars and the fact that there's not one mention of any reflection surfaces indicate Abbe-Koenig prisms with phase correction dielectric coatings. The manufacturer also added that all the air-to-glass borders were covered by multilayer antireflection coatings Doctermulitop.
The housing and the barrel of the binoculars were made of high quality plastics. The instrument is nitrogen-filled and fully watertight down to a depth of three meters. It comes with a 30-year-long guarantee.
Manufacturer data
Magnification
Lens diameter
Angular field of view
Prisms
Eye relief
Weight
Price
8
58
117/1000(6.7o)
BaK-4/roof
14 mm
1520 g
3490 PLN
Results of the review
Real front lens diameter
Left: 57.95+/- 0.05 mm
Right: 58+/- 0.05 mm
8 / 8.0 pkt
Real magnification
7.82+/- 0.15x
3/3.0
Transmission
94.7+/- 1%
22/25.0
Chromatic aberration
Medium in the centre, significant at the edge.
5/10.0
Astigmatism
Slight.
8/10.0
Distortion
The distance of the first curved line from the field centre compared to the field of view radius: 48% +\- 5%
5/10.0
Coma
Appears far from the center and is low at the edge.
8.5/10.0
Blurring at the edge of the FOV
The blur appears in the distance of 88.5% +\- 3% from the field of view centre.
7.5/10.0
Darkening at the edge the FOV
Medium.
3/5.0
Whiteness of the image
Very good. Almost perfect.
4.9/5.0
Collimation
Exemplary.
5/5.0
Internal reflections

| | |
| --- | --- |
| Left: | Right: |
| | |

Slight.
3.5/5.0
Housing
Very big, long and solid. The rubber by the objectives sticks out a bit. Eyecups with click-stops. It is convenient to handle and look through.
7.7/8.0
Focusing
The central screw is big and comfortable. It moves smoothly and one full turn takes 440 degrees. Individually it doesn't move the front lens but it has a short joystick which, in an extreme position can jam so it is difficult to move it.
4/5.0
Tripod
Moderately convenient tripod exit
2.5/3.0
Interpupilary distance
from 55.5 to 72.8mm
3/6.0
Closest focusing distance
3.5 m.
2/2.0
Eyepieces FOV
Eyepieces with the apparent field of view of 53.3 deg (according to simple formula) and 50.0 deg (according to tangent formula).
5.5/20.0
Field of view
Measured by us it amounted to 6.82 +\- 0.03 degrees and it was a bit larger than that stated in technical specifications. The field of view quite significant for this class of equipment.
5.5/8.0
Quality of the interior of the barrels
Inner tubes black and a bit shiny. Bottom black. Lack of glue, very clean.
4.8/5.0
Vignetting

| | |
| --- | --- |
| Left: | Right: |
| | |

OL: 0.4% OR: 0.0%
7.5/8.0
Prisms quality
High quality BaK-4.
8/8.0
Antireflection coatings
Orange – pink on objectives. Greenish on prisms. Green-yellow-orange on eyepieces. Low intensity.
5/5.0
Warranty [years]
30 years
5/6.0
Final result

75.7%

143.9 / 190 pkt
Econo result
0pkt.
Summary
Pros:
excellent transmission in all the visible spectrum,
negligible astigmatism,
very low coma,
sharp field of view from almost the edge,
sensational whiteness reproduction,
ideal collimation,
slight internal flares,
very solid barrel,
very good blackening and cleanliness inside the inner tubes,
negligent vignetting,
high quality prisms in the Abbe-Koenig system,
antireflection coating of excellent quality,
good guarantee conditions.
Cons:
the biggest dimensions in its equippment class,
distinct chromatic aberration at the field of view edge.

Let's start with the dimensions and the weight because these features make the binoculars different from rivals. The first chart shows us a comparison between the tested Docter and other roof-prism binoculars of the best manufacturers, the company's immediate competition with which they try to and often manage to win. As you see the Docter 8x58 is easily the biggest and the heaviest instrument here. Next to a Leica it looks like a Goliath next to a David – the picture below shows it very clearly.
When it comes to comparisons we can even go further than that. Next chart shows the Docter against a background of a very well-made Docter Nobilem 8x56 which has already been withdrawn from the production but have exactly the same parameters, a Minox 8x58 or a Nikon Monarch 8.5x56, also made of plastics. Once again the Docter 8x58 is the biggest and the heaviest of all…
The mystery of such significant dimensions and weight can be solved easily if we assume that in the tested binoculars Abbe-Koenig roof prisms were used. Contrary to Schmidt-Pechan prisms, they are heavier and longer but they work is based on the total internal reflection phenomenon so they can reach excellent transmission without the necessity of using any spraying reflective surfaces. As we mentioned the transmission, let's have a look at its graph.
Everything is clear now. We deal here with a quite flat graph in almost whole visible spectrum where the transmission is in the range of 94% to 97% - a result most of branded binoculars with Schmidt-Pechan prisms can only dream about. It is the first serious advantage of the Docter because in case of night binoculars every single percent of transmission is important.
I n order not to gush over the tested instrument ceaselessly let's add a blot on the landscape. Here we can see a transmission graph for a porro-prism Docter Nobilem 8x56. Those binoculars' dimensions are very much alike , in a new housing they are even a bit lighter than the 8x58 model, and the transmission is still better. In fact, it would be difficult to imagine a more perfect result – the achievement of the Nobilem 8x56 is, by and large, an ideal difficult to reach by roof-prism binoculars.
Looking at the rest of parameters and results there's really nothing to carp about. Chromatic aberration is the only drawback here– it can be really bothersome at the edge of the field. The rest of aberrations are corrected either exemplary or at least correctly. The test result speaks for itself. The binoculars scored better than a Leica Geovid, being twice cheaper at the same time. Perhaps it is not as good as a Swarovski SLC New 8x56 or a Zeiss Victory 8x56 FL but, being two times less expensive, it still constitutes an excellent alternative. We must keep in mind the fact, though, that for the same price we can buy a splendid Docter Nobilem 8x56 B/GA which scored as many as 10 points more but, on the other hand, has a noticeably narrower field of view.