Weaver Grand Slam 8.5x45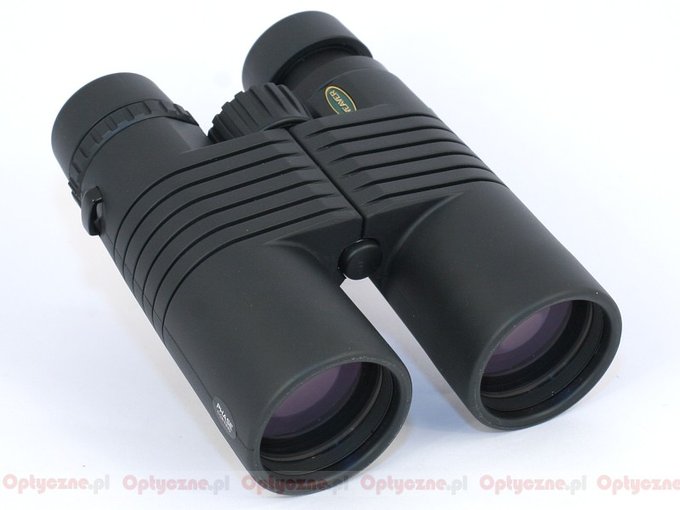 Weaver is one of the companies belonging to the Meade concern, which, after taking over such brands as Simmons, Bresser or exactly Weaver, keeps launching products with their original names.
The Weavers Grand Slam are a series of binoculars including 8.5x45 and 10.5x45 roof prism models equipped with rubber-padded, waterproof and nitrogen-filled casing. The optics additionally features good quality coatings on lenses and prisms and the latter are additionally phase correction coated.
Manufacturer data
Magnification
Lens diameter
Angular field of view
Prisms
Eye relief
Weight
Price
8.5
45
105/1000(6o)
BaK-4/roof
? mm
610 g
1799 PLN
Results of the review
Real front lens diameter
Left: 44.85+/- 0.05 mm
Right: 44.85+/- 0.05 mm
7 / 8.0 pkt
Real magnification
8.53+/- 0.15x
3/3.0
Transmission
88+/- 3%
15.5/25.0
Chromatic aberration
Visible both in the middle and at the edge of the field.
4.2/10.0
Astigmatism
Corrected in the right way.
7.3/10.0
Distortion
The distance of the first curved line from the filed centre compared to the field of view radius: 28% +\- 3%
2/10.0
Coma
Medium.
6.3/10.0
Blurring at the edge of the FOV
The blur occurs in the distance of 77% +\- 4% from the field of view centre.
5/10.0
Darkening at the edge the FOV
Very low.
4.5/5.0
Whiteness of the image
Slight blue hue.
4.6/5.0
Collimation
Perfect.
5/5.0
Internal reflections

| | |
| --- | --- |
| Left: | Right: |
| | |

Medium.
3/5.0
Housing
Solid and handy. Twist-up plastic eyecups. The rubber near objective lenses sticks out.
7.3/8.0
Focusing
The central screw is comfortable and works properly (460 degrees). Individual focusing through a ribbed ring on the right eyepiece; it is quite comfortable but it moves the lens.
4.7/5.0
Tripod
Moderately comfortable.
2.5/3.0
Interpupilary distance
from 58.7 to 74.3mm
5/6.0
Closest focusing distance
2.05 m
2/2.0
Eyepieces FOV
Apparent field of view of 51.4 deg (according to simple formula) and 48.4 deg (according to tangent formula).
4/20.0
Field of view
Measured by us amounted to 6.03 +\- 0.03 degrees and it was in perfect accordance with specifications.
5/8.0
Quality of the interior of the barrels
Tubes are dark but shiny. The bottom is gray. Clean. No glue or glowing screws.
3.9/5.0
Vignetting

| | |
| --- | --- |
| Left: | Right: |
| | |

OL: 3.7%, OR: 1.1%.
5/8.0
Prisms quality
Good BaK-4.
8/8.0
Antireflection coatings
Green on the objective lenses and prisms, green-purple on the eyepieces. Medium intensity.
4.5/5.0
Warranty [years]
5
3.5/6.0
Final result

64.6%

122.8 / 190 pkt
Econo result
0pkt.
Summary
Pros:
relatively good transmission,
solid and handy casing at the same time,
quite well corrected coma,
slight astigmatism,
low light fall-off at the edge of the field of view,
good whiteness rendition,
low inner flares,
minimal focus already from 2 meters,
good quality of coatings and prisms.
Cons:
slightly truncated exit pupils,
high distortion.
The Weaver Grand Slam 8.5x45 and the Delta Optical Titanium 8.5x45 are in fact twins, the most probably coming from the same factory. In almost all categories they reach similar results and their final score is also very much the same. The Weaver proved to be better than the Delta when it came to astigmatism correction and mainly because of that its overall result is better. The difference is slight, though, and it can be explained by small quality differences between particular specimens, especially that the astigmatism is very sensitive to even minimal differences of lenses positions in an optical system. Taking into account the fact that the Delta is significantly cheaper than the Weaver, you won't have any problem with guessing which of these instrument is a better investment.