Carl Zeiss Conquest HD 8x42 i 10x42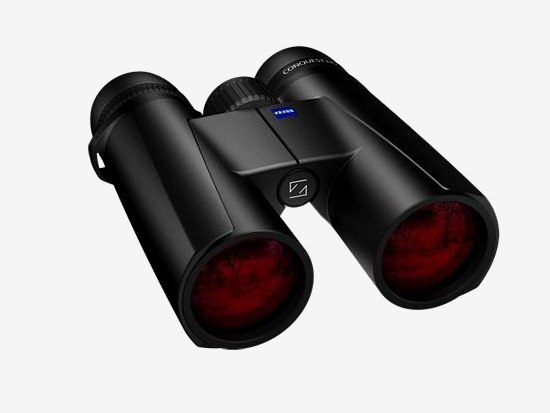 Carl Zeiss company has just announced two Conquest HD binoculars with parameters 8x42 and 10x42. Contrary to older Conquest binoculars which were made in Hungary, new Conquests HD are made in Germany. Zeiss points out at large fields of view which are 6.6 and 7.4 deg in 8x42 and 10x42 models, respectively.
Press release
In a class of its own
Welcome to a whole new class. Observe with particularly neutral and clear colour reproduction. Enjoy an impressive visual experience even in the twilight hours. Feel the perfect ergonomics, which allows you to observe in comfort. Learn to appreciate the compact dimensions and the lightweight nature of this all-rounder, which you can use with ease in your quest to discover nature. The CONQUEST HD is ideally equipped for forging new paths.
HD lens system
Observe nature in high definition. The new HD lens system with its neutral and clear colour reproduction offers a visual experience that sets new standards in its class. The tried and tested T* multi-coating from ZEISS guarantees the CONQUEST HD a light transmission of 90% – optimum conditions for impressive observations in twilight conditions.
Compact and lightweight
Compact in size and light in weight – the CONQUEST HD combines these two challenges to perfection in a way unmatched by any other binoculars in its class. The body, with its slim line design, is particularly compact. The robust construction protects the inner workings. And high quality aluminium makes the CONQUEST HD a pleasantly lightweight companion.
Made in Germany
A revolution in design, ergonomics and optics. A perfect "Made in Germany" all-rounder", which combines the traditional Carl Zeiss quality with the latest technology. And outstanding value for money too. CONQUEST HD marks an uncompromising introduction to the Carl Zeiss premium segment.
Largest field of view
Enjoy effortless vision even during long periods of observation. Whether you choose the CONQUEST HD 10 x 42 with the largest field of view of its class or the CONQUEST HD 8 x42 with a smaller magnification factor: both models guarantee you a superior view over great distances.
Innovative lens coating
You can rely on unclouded image quality whatever the weather, thanks to the LotuTec® lens coating. This innovative protective coating means that water simply rolls straight off the lens. Any dirt, such as dust, can be easily removed without a trace. This minimises the risk of scratching and therefore helps the binoculars to keep their value in the long term.
Precision even at close quarters
When observing at short distances you can depend on the highest precision. Even at close quarters the new HD lens system proves its worth. Whether you are observing birds, insects or butterflies in close-up, with the CONQUEST HD you can identify every detail thanks to the impressive neutral and clear colour reproduction.
Optimal ergonomics
Comfortable vision is not just a question of the optical lenses. Ergonomics plays a major role - and this is where the CONQUEST HD wins all round with its modern design. Even when you are wearing gloves, the comfortable focus with its large focussing wheel is convenient to operate, easy to hold and precise in its focus. The eyecups are also a triumph of ergonomic design. They are set at a slight angle, which serves to enhance the visual comfort of the CONQUEST HD.
Robust and precise
The CONQUEST HD is not only particularly lightweight but also extremely robust. The body is made of high quality aluminium. The inner workings are therefore perfectly protected from external adversities and the precision of the HD lens system ensured in the long term. This makes the CONQUEST HD a reliable companion, ready for any tough mission.