Nikon Monarch 10x42 DCF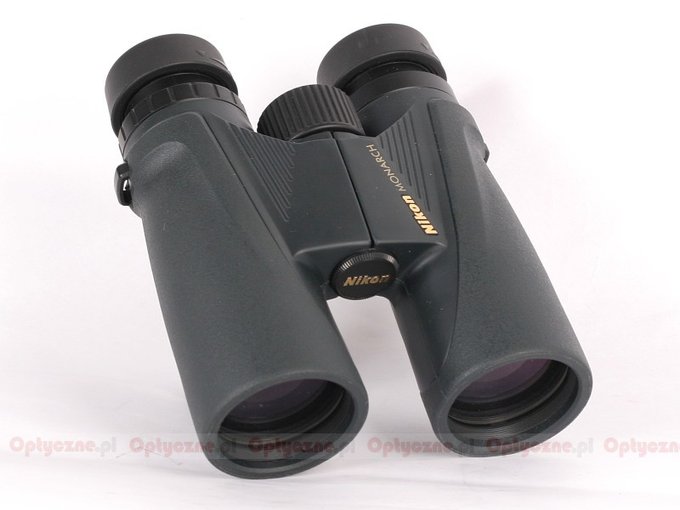 The Monarch series of the Japanese Nikon concern consisted previously of three roof prismatic models with 42 mm lens diameter and the magnifications of 8, 10 and 12x. The binoculars, costing about 300-400 USD, were rather praised and recommended by ornithologists.
In 2006 Nikon decided to enlarge its made-in-China Monarchs offer significantly. In that year they ended the production of Sporter I 8X36 and 10x36 models - their place was taken by the Monarchs with the same parameters (but not without raising the price significantly). Additionally, the offer was enlarged by typical night 8.5x56, 10x56 and 12x56 instruments, aimed at hunters and astronomy enthusiasts.
The Monarch series binoculars have all lenses and prisms covered by multi-layer coatings to ensure good light transmission. The BaK-4 glass roof prisms are in addition phase correction coated and covered by mirror layers with high light reflection factor to provide a bright image. A big eye relief assures a crisp, sharp image in the whole field of view also for people wearing lenses. The binoculars feature optical elements made of ecological glass without lead and arsenic. Apart from that, the Monarchs are waterproof (down to 1 meter for 5 minutes) and fogproof as they are nitrogen-filled. Their housing is made of polycarbonate resin reinforced by glass fibre and padded with a rubber layer which provides shock resistance and a comfortable hold.
The binoculars is under a 10-year-long guarantee and the delivery scope includes a case, a strap, objectives caps and a one-element eyepieces cap.
Manufacturer data
Magnification
Lens diameter
Angular field of view
Prisms
Eye relief
Weight
Price
10
42
105/1000(6o)
BaK-4/roof
18.5 mm
610 g
1599 PLN
Results of the review
Real front lens diameter
Left: 41.98+/- 0.05 mm
Right: 42.01+/- 0.05 mm
8 / 8.0 pkt
Real magnification
9.9+/- 0.2x
3/3.0
Transmission
82+/- 3%
10/15.0
Chromatic aberration
In the centre between medium and low, at the edge –low.
7.1/10.0
Astigmatism
Well-corrected.
7.2/10.0
Distortion
The distance of the first curved line from the field centre compared to the field of vision radius: 37% +- 3%
3.5/10.0
Coma
On the medium and low borderline.
6.5/10.0
Blurring at the edge of the FOV
The blur occurs in the distance of 76% +- 2% from the field of view centre.
4.5/10.0
Darkening at the edge the FOV
Low.
4/5.0
Whiteness of the image
The image slightly gray-yellow.
3.2/5.0
Collimation
Perfect.
5/5.0
Internal reflections

| | |
| --- | --- |
| Left: | Right: |
| | |

Medium.
2.8/5.0
Housing
Light, handy and solid at the same time. Regulated eyecups. Thin plastic next to the objectives.
7/8.0
Focusing
Big comfortable central screw with the turn range of 450 degrees. It moves very easily (perhaps even a bit too easily). Too big resistance on the right eyepiece for a change.
4.2/5.0
Tripod
A comfortable exit.
3/3.0
Interpupilary distance
from 55 to 74mm
5/6.0
Closest focusing distance
1.8 m.
2/2.0
Eyepieces FOV
Apparent field of view of 60.3 degrees.
7/10.0
Field of view
Measured by us amounted to 6.09 +- 0.03 degrees and was slightly wider than stated in the specifications.
5.5/8.0
Quality of the interior of the barrels
Black inner tube, moderately matt. Light gray bottom. Isolated specks of dust, very small.
4/5.0
Vignetting

| | |
| --- | --- |
| Left: | Right: |
| | |

Distinctly egg-shaped pupils.
OL: 6.8%, OR: 2.9%.
2/8.0
Prisms quality
High quality BaK-4.
8/8.0
Antireflection coatings
Greenish on the objectives and prisms, green-pink on the eyepieces. Low intensity.
5/5.0
Warranty [years]
10
4.5/6.0
Final result

71.8%


39th place in global rank of our 10x42 binoculars test.
122 / 170 pkt
Econo result
31st place in Econo rank of our 10x42 binoculars test.
-0.3pkt.
Summary
Pros:
light and handy casing made of polycarbonate resin reinforced by glass fibre,
good quality of prisms and antireflection coatings,
well-corrected coma and astigmatism,
slight chromatic aberration,
low brightness loss at the edge of the field,
sharp image already from 1.8 metres.
Cons:
too high distortion,
the image at the edge of the field could have been sharper,
distinctly truncated exit pupils.
The Nikon Monarch had been considered to be one of the better nature observation instruments for many years. Unfortunately, a lot of better rival products have been launched on the market recently and they have endangered the position of the Japanese tycoon very seriously. What's the most curious Nikon doesn't seem eager to take the field especially when it comes to the European market, where Nikon products' prices are much higher than in the USA (you can buy a Monarch for about 300 USD there) and the guarantee conditions are much worse (10 instead of 25 years). It's often the case that a set of binoculars bought in the USA, including duty and delivery costs, has a lower price tag than that suggested by Nikon Polska for our market.
The Monarch loses any open duel with such binoculars as the Kowa, the Olympus EXWP-I or the Vortex Viper and the amount of money you must spend on it is similar or just slightly lower.
To be honest we must state clearly here that the Nikon's result is not bad at all. Quite the opposite, in fact. The binoculars fare very much like the Opticron Verano, the Fomei Diplomat or the Bynolyt Buzzard, which cost the same or are a tad more expensive. Everyone who buys a Monarch will be happy with it for sure. It doesn't mean, though, that they couldn't have spent their money in a much better way.